You just DIY'd a raised bed in your garden. Perhaps you want to grow some fruits, vegetables, or herbs like me. While you can choose to make your homemade compost from fruit and vegetable scraps, I would highly recommend you to try out bagged compost if:
It is your first time planting.
You need more compost than you can make.
You don't want the hassle of making your own compost.
You need the compost in a hurry.
Nevertheless, if you are considering making your compost at home, you should familiarize yourself with which items are compostable and which are not.
Image Credits: pixabay.com
However, getting the right bagged compost for your organic gardening needs is not always easy.
Best Bagged Compost for Raised Beds
Image Credits: homesteadandchill.com
There are 4 types of bagged compost available in the market:
Yard waste compost – made of grass clippings and other plant wastes.
Manure-based compost – made of chicken, horse, and cow manure. Composted cow manure is one of the most popular ones in this category.
Worm Castings compost (vermicompost) – made of worms that feed on manure.
Mushroom compost – made from mushroom manure.
Image Credits: pixabay.com
So I crafted a comprehensive list of bagged compost for you to choose from that will cater to all your farming and gardening needs, both indoors and outdoors. You can choose which one works for you from this list:
| | | | |
| --- | --- | --- | --- |
| | | | |
| | | | |
| | | | |
| | | | |
| | | | |
| | | | |
1. Charlie's Compost: Best Bagged Compost for Outdoors
Charlie's Compost: Concentrated Organic Plant Fertilizer to Improve Garden Soil and Potting Soil in...
You Will Love Our Product: Not all compost is created equal. Our compost is not in the same category as the bag you...
Healthy Plants: If you want beautiful, healthy and vibrant plants in your vegetable garden, this is the product for...
Ingredients: Charlie's Compost is made from the finest quality compost inputs including vegetarian & antibiotic...
Certified Organic: Our organic certification means that our product is all-natural, safe and appropriate for use in...
Why Use Our Product? Synthetic fertilizer addresses the "symptoms" of soil deficiency by dumping chemicals into the...
Last update on 2023-09-06 / Affiliate links / Images from Amazon Product Advertising API
Charlie's Compost is made in Calhoun, Kentucky, and is Certified Organic. The ingredients include chicken manure mixed with other organic materials, such as straw, cornstalks, hay, and clay. These materials are left to compost for about 8 to 12 weeks.
Staff at Charlie's Compost ensure that the compost has the right amounts of carbon dioxide and is at the right temperature. It is also air-dried.
Image Credits:inthralld.com
A typical bag is about 10 lbs and is 12.4 by 7.6 by 3.9 in dimension. Further, the Nitrogen, Potassium, and Phosphorous levels are 0.5, 0.4, and 0.5, respectively. Therefore, the recommended ratio is 1 part of compost for 4 parts of soil.
Charlie's compost is more versatile than other bagged compost as it can be mixed with worm castings to produce an even more nutritious compost option.
However, if you have pets, you should consider setting up an enclosure and cover for your raised bed, as they might confuse the compost with delicious dirt. I say this out of experience; my dogs found it delectable. In addition, it has no smell, making it an ideal option for indoor and outdoor plants.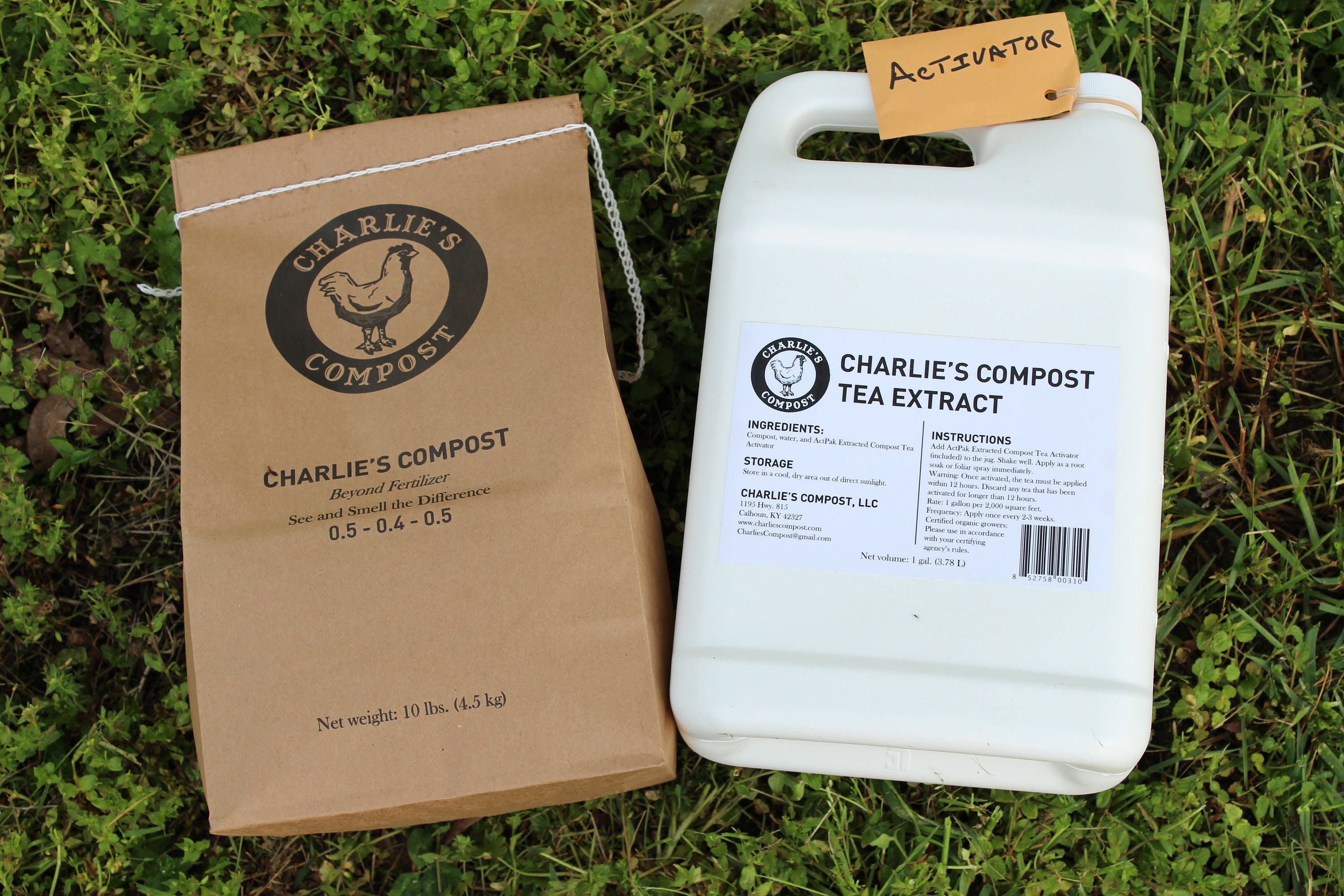 Image Credits: etsycanada.com
One of the best features of buying Charlie's Compost is that the company has an effective customer care unit. You can communicate with them via telephone or social media. The communication is on time, seamless, and effective.
Moreover, the customer reviews are impressive. Indeed, Charlie's Compost's bite is more than its bark.
Image Credits: gardeningknowhow.com
Cautionary Tip: I used too much of Charlie's Compost, which burnt some of my plants. So, be careful about how much compost you use per square foot of acreage, and avoid stuffing your potted plants. Remember, quantity does not substitute for quality.
2. Wiggle Worm Soil Builder with Earthworm Castings: Best Bagged Compost for Soil Building
Wiggle Worm 100% Pure Organic Worm Castings - Organic Fertilizer for Houseplants, Vegetables, and...
PURE EARTHWORM CASTINGS – Wiggle Worm Soil Builder is pure castings, not vermicompost, because of our special...
IMPROVES SOIL STRUCTURE–Wiggle Worm Pure Worm Castings contain tiny, football-shaped particles that prevent...
INDOOR AND OUTDOOR USE – Wiggle Worm Pure Worm Castings are great for both outdoor and indoor gardens because...
EASY-TO-USE – A little goes a long way with Wiggle Worm, so a handful or half a cup is all you need. Apply our...
Last update on 2023-09-07 / Affiliate links / Images from Amazon Product Advertising API
Wiggle Worm Soil Builder with Earthworm Castings by UNCO Industries literally turns mediocre soil into valuable black gold. What I realized sets it apart from other bagged composts is its use of earthworm castings, which help improve aeration, increase water retention, and repel pests.
Image Credits: newenglandhydrophonics.com
It improves soil structure which aids the rapid growth of plant roots. The particles that make up the compost are shaped to allow for better drainage. Therefore, the soil will not become waterlogged.
However, it isn't only earthworm poo that makes up this compost – I thought the same, I really did. The worm castings are covered with calcium carbonate in the worms' gut. This poop then contains all the necessary minerals for plant growth, such as nitrogen, potassium, and phosphorous.
Wiggle Worm Soil Builder is odorless and sterile, suitable for indoor and outdoor plants. I really expected it to be a bit smelly, considering it is worm poo. I was pleasantly surprised.
It is effective as a fertilizer that won't burn your plants so, whether you use it for potted plants or vegetable garden beds.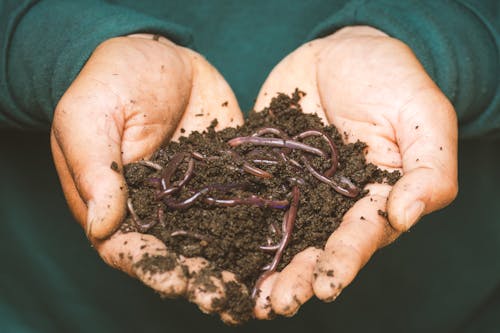 Image Credits: pixabay.com
Making your vermicompost may be difficult and imperfect. Wiggle Worm Soil Builder aims to produce pure earthworm casting that does not have impurities such as sand or worm eggs. They screen the compost for these impurities and remove them without sterilization.
Image Credits: marthastewart.com
Further, vermicompost must be constantly moisturized with non-chlorinated water to maintain at least 10% moisture levels. The compost should be stored in a breathable container.
3. Sustane Compost Tea Bags: Best Bagged Compost for Soil Microbiology
Last update on 2023-09-07 / Affiliate links / Images from Amazon Product Advertising API
Have you ever heard of compost tea bags? Well, let me educate you. Just like ordinary tea bags, compost tea bags are brewed over time. Sustane Compost tea bags are compostable and biodegradable. They are also permeable, allowing water to seep through and mix with the compost.
Image Credits: thespruce.com
Alternatively, you can mix the compost tea bags with water and spray the liquid on your plant leaves or soil. The recommended ratio of mixing is one tea bag per gallon of water. The water should be between 60° and 100°F.
The composting process is quite easy. Let the compost tea settle for at least 24 hours so that the microbes have sufficient time to break down nutrients. Also, make sure to use the brew within 36 hours of making it. For instance, I refreshed my tea weekly.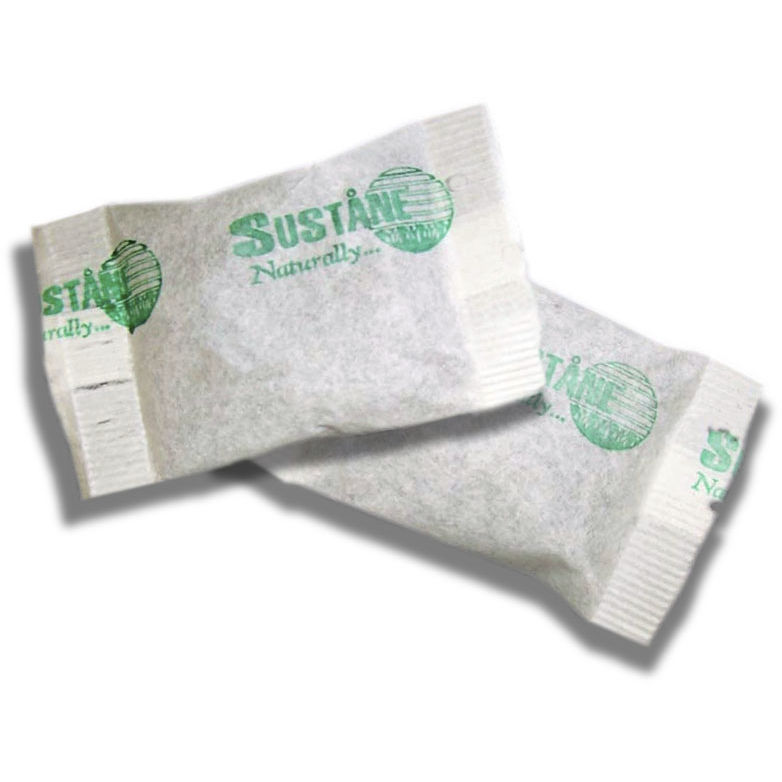 Image Credits: agriexpo.com
One of the best things about Sustane Compost tea bags is that you do not need to make detailed measurements; it is all premeasured. Further, you will have no waste left when using these tea bags. This works well for potted plants.
Sustane Compost tea bags are made from turkey litter. They are pathogen-free, have no weed seed, and have no blood or bones mixed. Since it is made of organic ingredients, it can be used on all plant types, from bushes to herbs.
The Nitrogen: Phosphorous: Potassium (NPK) ratio is 3:5:3.
4. Blue Ribbon Organics OMRI Certified Natural Premium Organic Compost for Plants: Best Bagged Compost for Your Garden, Farm, or Lawn
Sale
Last update on 2023-09-26 / Affiliate links / Images from Amazon Product Advertising API
Perfect for raised beds, Blue Ribbon Organics compost has the following features:
It can be used with other fertilizers, such as worm castings.
It can be used at any concentration.
Third, it is made up of organic, all-natural ingredients; nothing more, nothing less.
Image Credits: greatlakesbiosystems.com
The compost works to regenerate soil, so if your garden soil needs some replenishing, this compost is the best fit. It should be tilled into the soil before a planting season or at the end. It can be a top dressing or mulch for your flower and vegetable garden beds. I used it as a top dressing for my jasmine flowers, and it worked wonders.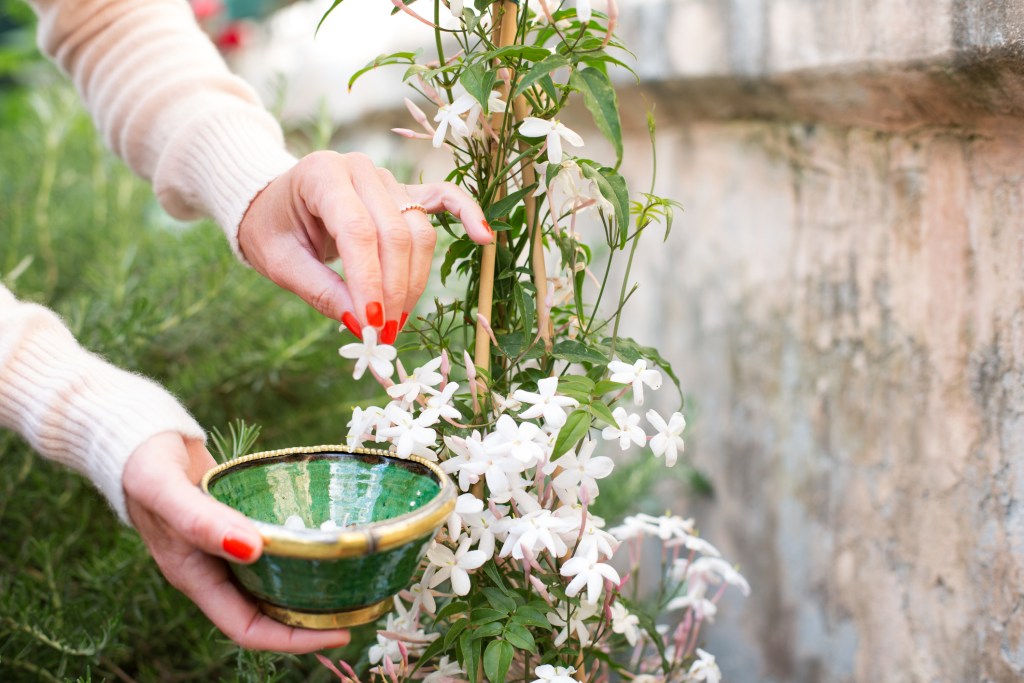 Image Credits: happysprout.com
The ingredients that make up this compost include grass clippings, vegetable waste, and other garden debris. I was wary about the presence of weed seeds but was happy to know that they constantly tested their compost for the presence of weed seeds and unwanted pathogens. It is therefore certified organic compost.
5. Uncle Jim's Worm Farm "Real Worm" Compost 4lbs: Best Bagged Compost for Soil Amendment
Uncle Jim's Worm Farm Black Gold Worm Castings Compost Fertilizer for Garden Soil | Red Wriggler...
Worm Castings Organic Fertilizer: Our worms are raised in worm beds that are decades old and work all layers of the...
Black Gold Worm Castings: Using live earthworm castings for gardening and plant growing purposes can benefit any...
Organic Worm Castings: The worm castings produced by our worms are 7 times richer in phosphates, 5 times richer in...
Composting Worms Help the Earth: By feeding food scraps to compost worms instead of throwing them away, we all help...
Uncle Jim's Worm Farm: We've been in business for over 50 years, using over 40 acres of land, the largest worm farm...
Last update on 2023-09-18 / Affiliate links / Images from Amazon Product Advertising API
Red wriggler worms at Uncle Jim's go by various fancy names, such as 'nature's wonder workers' and 'champion composters.' I love the latter more.
With Uncle Jim's worm compost, you may get worm eggs or twigs because the compost is harvested directly from the compost bin where they are grown. However, no chemicals are added.
Image Credits: etsy.com
As with all other bagged compost, it should be stored in a cool, dry place, away from direct sunlight and moisture. Proper storage extends the compost's shelf life for up to 6 months. Using it within its shelf life guarantees that the volume and microbial activity remain constant, per the manufacturer's desired intention.
Sometimes, a bag of Uncle Jim's compost may come with live worms. While this may raise concern for some gardeners (I'm not included), it shouldn't be an issue. These champion composters will aerate your garden soil further, supporting optimal plant growth and producing healthy plants.
Since they are made of real worms, caution should be placed if you use the compost indoors. These bugs and pests may infest your house if you do not properly use and store the compost.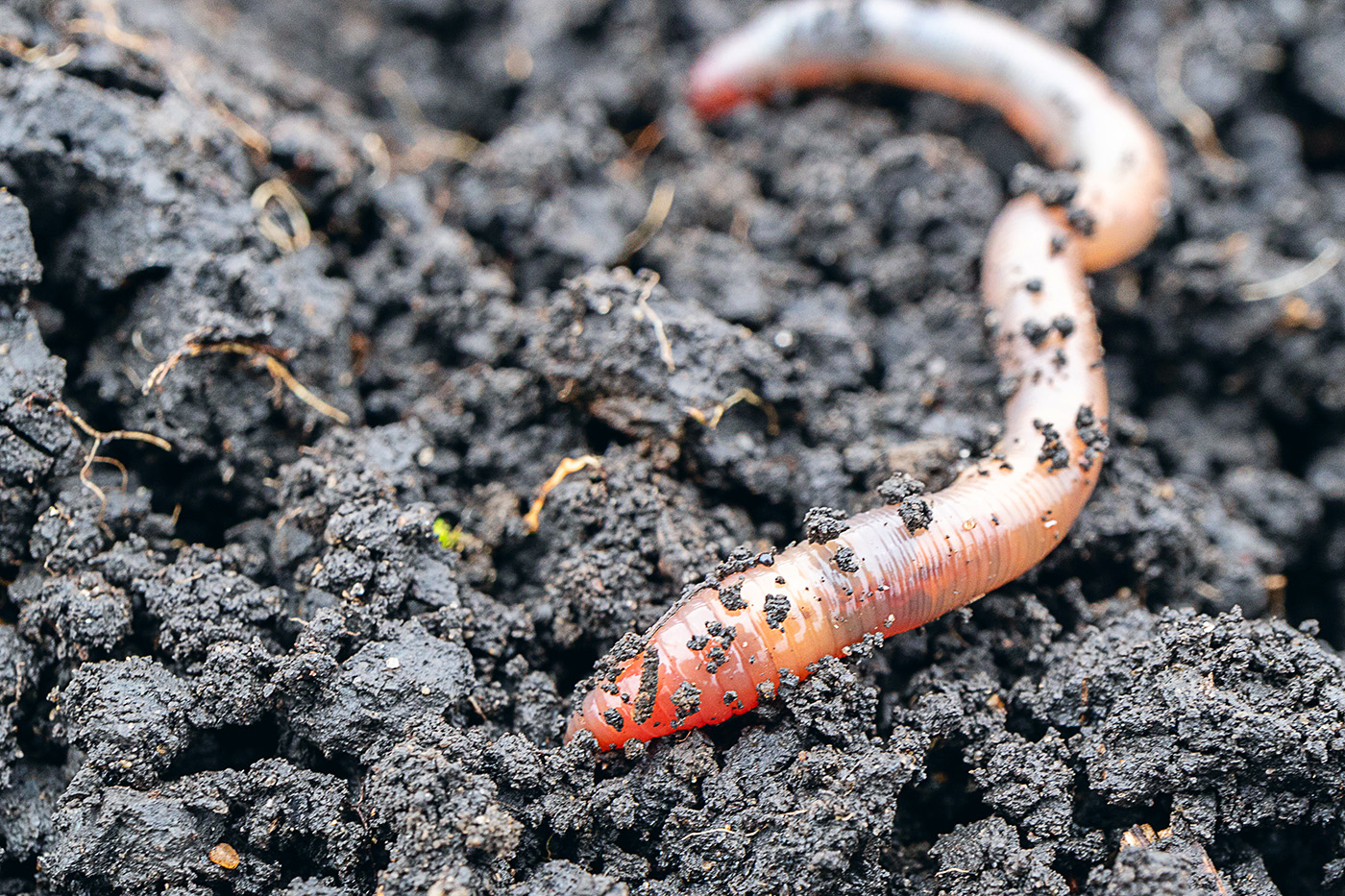 Image Credits: sciencefriday.com
The compost improves soil quality and soil amendment. Therefore, the soil becomes more aerated and has proper drainage. Soil amendment is when essential nutrients are added to the topsoil. Consequently, you get healthier plants. Alfalfa meal is also used as a soil amender.
6. Spagmoss Premium New Zealand Sphagnum Moss for All Types of Flowers: Best Bagged Compost for Flowers
Sale
Last update on 2023-09-18 / Affiliate links / Images from Amazon Product Advertising API
Spagmoss Premium New Zealand Sphagnum Moss is derived from the sphagnum moss's dead, decaying plant matter. When sphagnum moss is harvested from bogs, it is dead and decayed, and it is then called (sphagnum) peat moss.
Image Credits: plantssparkjoy.com
These plants, whether living or dead, can store water up to 16 times their normal dry weight. This makes them effective manipulators of the habitat they find themselves in. Consequently, the soil they grow in will be moist and support plant growth throughout. Peat moss is, therefore, very effective for sandy and clay soils found in my raised beds.
Image Credits: arrowsaimgreenhouseandsupply.com
It has a low pH of 4.0, making it a suitable soil amendment for plants growing in highly alkaline soils, which makes it best for all types of flowers. It is also light brown, green, or gray and occurs as a dry, stringy texture. Further, this peat moss is airy and lightweight, which I found rare for moss compost.
The composting process is intricate, producing a high-quality type of peat moss. It is hand-sourced in New Zealand swamps, then transported via air to processing centers where it is cleaned and air-dried.
How to Choose the Best Bagged Compost for Raised Beds
Some farmers may prefer using a potting mix to buying bagged compost for their raised beds and vice versa. The difference between these two is slight but present nonetheless. Potting mix is sterile and does not contain soil, ensuring plants grow from neutral soils.
Planting mixes are made when good soil is blended with quality compost. Your raised bed already has soil; therefore, it does not need planting mix but compost.

Image Credits: unsplash.com
Moreover, good quality compost should be:
Dark in color.
Moist but not wet.
Crumbly in texture.
Without soil.
Earthy and have a good smell.
Pro Tip: For more tech-savvy farmers, you can make your compost using electric smart waste kitchen composters. They save you both time and energy.
Conclusion: The ADAM Test
The general rule of thumb when deciding which bagged compost works best for you should not be limited to price or public reviews. While these also matter, these additional points should take precedence. Your bagged compost should be:
Alive: It should have microbes and living worms.
Diverse: It should contain different ingredients, such as food scraps, yard waste, and dry leaves
Aeration: It should be airy enough.
Moisture: Compost should be moist but not wet. It could be dry as well but mixed with water during application.

Image Credits: newwestrecord.com
While not all compost will tick all four boxes, satisfying at least some is sufficient to make your bagged compost a winner.
Featured Image Credits: thespruce.com