Composting at home with minimal effort requires the best compost aerator and ideal compost ingredients. Using the best tool for a job ensures you work faster and with less energy input.
If you already know what you need, you can easily find an aerator to make your work easier. However, if you are still confused and wondering what to choose, we have a list of some of the best compost aerators on the market.
Let's go through them.
What Is a Compost Aerator?
A compost aerator is a gardening tool used for aerating and stirring compost bins or pile contents. Using an aerator, you may speed up the process of dispersing moisture, oxygen, and bacteria in the compost pile.
Image source: thesolanacentercomposter.com
A compost aerator has pointed ends that stab the compost pile to create pockets of air deep in the compost. This process of pulling and pushing spreads moisture, heat, and air on top of the pile for better decomposition.
Whether you choose to use the best type of compost bin or pile your compost elsewhere, a good aerator ensures your compost stays healthy and oxygenated.
Best Compost Aerator
| | | | |
| --- | --- | --- | --- |
| | | | |
| | | | |
| | | | |
| | | | |
| | | | |
1. Yard Butler Twist Tiller Garden Cultivator
Yard Butler Twist Tiller garden cultivator & hand tiller heavy duty garden claw hand tool - ITNT-4
LIFETIME GUARANTEE: Stop buying plastic or cheap metal products that don't hold up over the years. Yard Butler...
LONG HANDLED GARDEN CLAW CULTIVATOR's step plate and wide 12 inch T handle uses the force of your body to easily...
HANDHELD TWIST TILLER loosens, turns, tills, and aerates soil promoting the free flow of water, air, and fertilizer...
HAND CULTIVATOR & CLAW WEEDER is ideal for mixing fertilizer or peat moss amendments and preparing raised bed for...
GARDEN HAND TILLER is heavy duty with powder coated durable steel construction to last multiple planting seasons....
Last update on 2023-09-14 / Affiliate links / Images from Amazon Product Advertising API
Your compost pile needs serious aeration, and you have decided to give it just that. However, you're still unsure how to proceed with the process, and that is where this compost aerator comes in. If you realize that your compost is not getting hot and need to act upon it, get yourself a Yard Butler compost aerator.
It is easy to use as it works by using your body's force to rotate its tines into the soil. The tines themselves are sharply angled, making them easily till the soil.
Image source: Voo, amazon.com
This tiller is also versatile as it loosens the soil, turns, and aerates it hence promoting the free flow of air. Also, this tool is lightweight as it is constructed with durable steel and coated with powder. With its 4.6 lbs. weight, you can easily use it without feeling drained as it is lightweight.
2. Bosmere Compost Aerator
Sale
Bosmere Compost Aerator, 36"
Compost aerator for activating the compost heap at all different levels thus assisting decomposition
Made of non rust steel with a vinyl hand grip
It has two sets of activating wings which fold to push into the compost and open out to aerate
Handle can be adjusted for left-handed or right-handed use
Measures 36" height
Last update on 2023-09-07 / Affiliate links / Images from Amazon Product Advertising API
Are you wondering what tool to use to get the best out of your compost heap? Well, this tool is among the best compost aerators you can try.
You can use it to aerate compost at different levels, thus enhancing decomposition. With its two sets of activating wings, I had an easy time pushing into the compost while aerating. The wings fold to enable the tool to get into the heap easily.
Image credits: sears.com
As a left-handed individual, I liked this aerator for compost because it is not made for right-handed people only. While working with it, I only had to adjust the handle to enable me to use it, as the handle can be adjusted to be used by both right and left-handed people.
3. Subpod Compost Aerator
Subpod Compost Aerator. Compost Turner and Mixing Tool That Won't Hurt Your Worms. Crank Compost...
WORM FRIENDLY: Unlike drill-bit attached augers which can kill your worms in seconds, the Subpod compost mixing...
FOOD-GRADE STAINLESS STEEL: Designed for safety and it won't rust! Super easy to clean, very easy and simple to use...
COMFORTABLE POLYPROPYLENE HANDLE: Ergonomically designed for comfort and ease of use, the Subpod compost aerator...
EASILY TO DISASSEMBLE FOR STORAGE AND TRANSPORT: A compost tool can be annoying and awkward to store. The Subpod...
SPARE PARTS INCLUDED: We include spare parts so in the unlikely event something goes wrong, you're covered.
Last update on 2023-09-14 / Affiliate links / Images from Amazon Product Advertising API
Subpod compost aerator is a tool designed to make your compost healthy and oxygenated. One unique feature of this tool is that it is worm friendly, meaning that it will not harm your worms while turning the heap of compost.
Buying an important tool like this one, only to rust after a few days, can be frustrating. However, this Subpod is made with food-grade stainless steel that does not rust even if you forget it outside, like I did, lol.
Image credits: Subpod.com
Cleaning it was not an issue, not even once, ensuring you store it while well-cleaned and dried. Also, using it does not require much effort and is not complicated; even my child helped me turn the compost with this aerator comfortably. The ergonomic handle ensures turning the compost is made easier and more comfortable.
Whether you want to use the tool around your house or away, you will not have a hard time transporting it. This is because it is easy to disassemble and occupies minimal space. Such features also make it easy to store if you prefer storing it while intact.
4. Squeeze Master Compost Aerator
SQUEEZE master Compost Aerator-Compost Turner and Mixing Tool-Compost Aeration Tool
High-grade stainless steel material:Made of high-grade stainless steel material, no harmful substances and no...
Ergonomically designed handle:High-quality polyamide material, well-designed for easy grip.
Worm friendly:The smooth tool won't hurt the worms in your fertilizer, just plug in and spin for easy aeration.
Simple installation & space saving: With only 2 parts in total, installation is quick and easy,which for convenient...
Quality warranty:We will always stand behind our products to provide after-sales service to customers. If you have...
Last update on 2023-09-14 / Affiliate links / Images from Amazon Product Advertising API
When looking for a tool for any job, you need to ensure that it is ideal for that task. That is why we can confidently recommend this Squeeze Master compost aerator.
It is made of high-grade stainless steel without any harmful substances or residues. I realized that its surface is extremely smooth and poses no risk to the user.
Image source: sears.com
The handle is another thing you'll love. It is ergonomically designed and made of high-quality polyamide material that made it very easy for me to grip during use.
Your compost needs living organisms like worms for the best results. So you need a worm-friendly aerator like the Squeeze Master. It has a smooth crank that does not hurt the worms; all you need to do is plug in and spin for easy aeration.
5. Tierra Garden Dewit Corkscrew Weeder
Tierra Garden Dewit Corkscrew Weeder with Short Handle
Dimensions: 22" L x 4.5" W x 1.5" H; 1.5 lbs
Friendly way to get rid of weeds; no need for toxic herbicides
Screw into soil and pull to remove
Great for dandelions or as a compost aerator
Strong yet lightweight with unrivaled Dutch-made quality; all DeWit products have a lifetime guarantee
Last update on 2023-09-07 / Affiliate links / Images from Amazon Product Advertising API
If you are looking for the perfect and versatile gardening tool to gift yourself or your gardener friend, this is the real deal. First of all, it is versatile and not just suitable for aeration.
I could use it for planting, aerating, digging, and even cultivating. This tool comes in a set of three pieces which include; a forged hand fork, forged trowel, and 3-tine cultivator.
Image source: desertcart.in
To make working with it easier, the tool is lightweight and will not put your back under strain. I enjoyed using it while aerating my compost heap, as it felt like I wasn't carrying anything.
Nothing good comes easily, and this tool is no different. It is slightly more expensive than some of its competitors, but that's all worth it as it is efficient and durable.
What to Look for When Buying the Best Compost Aerators
a) Types of Compost Aerators
The aerators mentioned below are the most common ones;
i) Plunger/Plug Aerators
Plunger aerators, also known as tine aerators, have many tines that spread out when the aerator is moved upward. This promotes air pockets in the compost pile, aiding the decomposition process.
Image source: backyarddigs.com
ii) Crank Aerators
Crank aerators, also known as corkscrew aerators, are great for small and large compost piles. The aerator's blades, which resemble a corkscrew, are rotated by turning a crank on the aerator.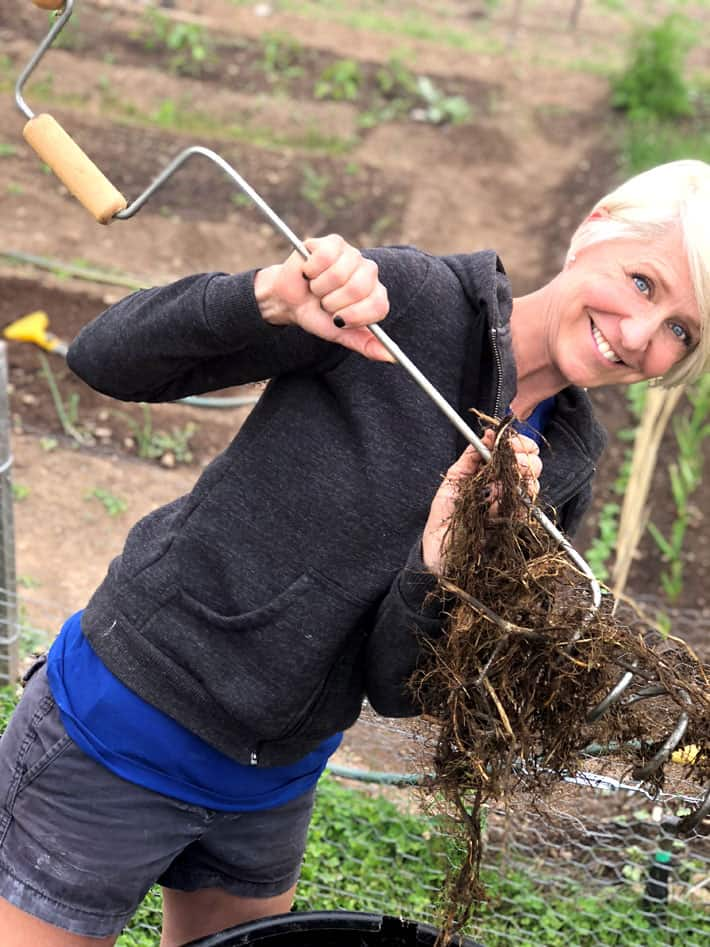 Image credits: theartofdoingstuff.com
iii) Spike Aerator
These are small, compact aerators that are put into the ground to increase air circulation.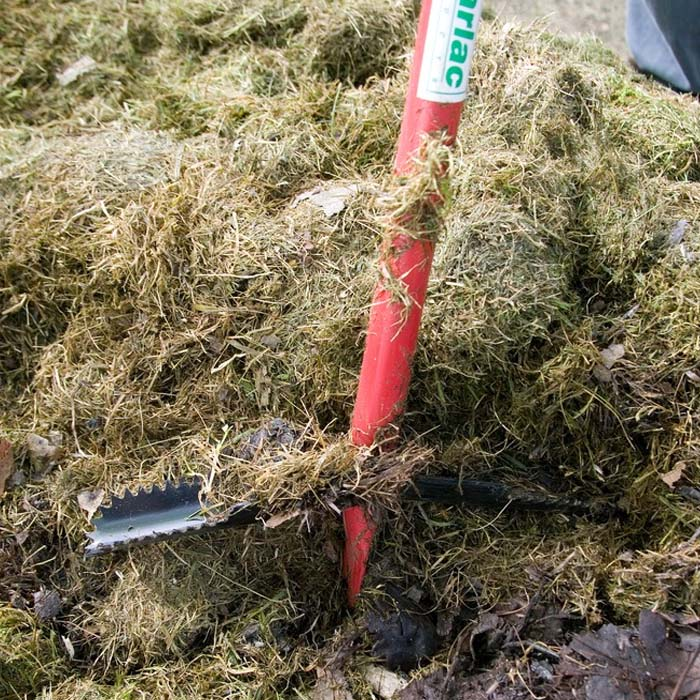 Image credits: thegardenshop.ie
They frequently have padded handles with sharp spikes or tines at the shaft's end to reach the compost pile's deepest part.
iv) Rolling Aerators
A rolling aerator is simply a metal drum with spikes connected to the rolling surface. To aerate a large area, you only need to roll the drum over the ground.
Image credits: mylawncare.com
Rolling aerators are available in a variety of sizes, from portable models for compost piles of medium size to massive pieces of equipment for farms with a sizable compost pile.
v) Perforated Pipe Aerators
There are holes all around these horizontal pipes. The perforated pipes are positioned in between layers of material, and then fresh air is pumped through them to aerate and speed up aerobic decomposition. They can cover vast regions of compost heaps, making them ideal for aeration on large-scale firms.
Image credits: jakeparillo.com
b) Durability
The lifespan of the tool will depend on the materials used in making it. The majority of aerators are composed of aluminum or stainless steel, which has a protective coating to withstand constant usage without bending or rusting. This will make the material rigid, allowing you to tug, twist, or plunge it.
c) Compost Pile Size
The smaller and less expensive hand aerators are preferable if you plan to utilize the aerator in a small space. They are useful, simple to use, and quite affordable.
Using perforated pipe aerators is an option for farms or areas of moderate size. They only need to purchase the necessary equipment, including air compressors and pipelines, and put everything together themselves.
Rolling aerators are an option for larger regions because they can aerate a wider area in a shorter time.
d) Compost Type
You can tell the best aerator for you once you know the type of soil or your compost. A dense compost pile will require an aerator suited for such piles. Also, loamy soil will need a different aerator than rocky soil. So, those are things you need to check before buying an aeration tool.
e) Ergonomics
Before buying any product, you need to ensure you check the ergonomic factors. For instance, you will need a compost aerator with padded handles for a smoother working experience.
Such tools ensure the hands and muscles are comfortable and offer proper grip while applying less strain on your body.
f) Weight
A compost aerator tool should not weigh too much as that tends to make work harder due to the extra weight. Generally, the weight of the tool is determined by the material used.
Compost aerators made from stainless steel and aluminum weigh less and are easier to work with. This means that for people with back pain or arthritis, working can be made easier and less draining.
g) Length and Design
The length and design of your tool determine the ease of using them and how deep you can penetrate. If you have a huge heap of compost, you may consider getting a longer aerator.
Using a shorter tool may stain your back and may not work effectively during compost aeration. A short compost aeration tool is only suitable if you are a short user. You may check the measurements in the description before buying to ensure you get one of the right height.
h) Type
As already discussed earlier, there are different types of compost aerators. This means they work differently and while selecting one to work with, you need to get what s most suitable for the type of compost pile.
If you have light compost, you may need to use a corkscrew aerator. However, the plunger aerator works well for heavy compost piles with a lot of dry leaves. So, choose accordingly.
i) Warranty
Any tool or device you buy should have a warranty to back it. Before buying an aerator tool, check its warranty terms to ensure they favor you. You can also check the compost aerator reviews to see if the company truly offers a favorable warranty to be sure that whatever you're getting is worth it.
Frequently Asked Questions On the Best compost Aerator
1. How often should you aerate your compost pile?
Aerating the compost once a week is ideal and works well; however, the size of your compost should be your guide. A week will do if you have a small pile; however, if your pile is bigger, you may need to do the aeration daily, but after dividing the pile into manageable sections.
2. What happens if I don't turn the compost?
Your compost will be compacted and lose heat if you don't turn it as required. Oxygen will again not flow properly, making small organisms such as bacteria and worms die.
3. Does my compost bin need air holes?
Yes, leaving holes in your compost is important as this allows air to flow in and out of the compost heap. Additionally, your heap will need about 5-9 holes.
4. What breaks down compost the fastest?
If you want your compost heap to decompose fast, you will have to add nitrogen-rich materials. The heap needs carbon and nitrogen to work best; however, the process will slow down with excess carbon. Greens are high in nitrogen; therefore, the process will go faster when added to the compost.