Who doesn't love roses? Roses are considered one of the most beautiful garden flowers. While your roses can survive in little amounts of water, arid soil, poor lighting, and no fertilizer, growing them is not as easy as most people think. It requires time and plant resources to produce beautiful roses.
One of the best things you can do for your roses is to add a layer of compost as a top dressing. Using the best compost for roses can help retain moisture and balance the soil pH. As a result, growing roses becomes easy, and your flowers are able to bloom during the growing season.
But have you ever wondered which compost is ideal for a rose garden? In the following sections, I'll address these concerns and present the five best products for adding substantial organic matter to your garden.
Which Kind of Compost is the Best for Roses?
Decomposed organic matter, or compost, boosts soil microbial activity and improves soil quality as a whole. When comparing compost and topsoil, the crucial difference is that the former is used as a soil amendment and the latter as a landscape filler.
So, is composting worth it? Using compost has a wide range of positive effects, including;
It feeds and enhances the soil by introducing necessary nutrients.
It can lessen plant illnesses and deter pests.
It promotes the growth of beneficial bacteria and fungi.
Using organic waste in compost is beneficial for the environment.
When it comes to garden compost, you have a lot of options. You can get an all-purpose mix that is great for lawns, shrubs, beds, borders, trees, or vegetables. However, not every type of rose compost available is the ideal choice.
Due to this, settling on the ideal solution for your roses can feel like an impossible task. But don't worry; we're here to help! Here are the five best composts you can use for your rose plants to help narrow down your choices.
| | | | |
| --- | --- | --- | --- |
| | | | |
| | | | |
| | | | |
| | | | |
| | | | |
1. Charlie's Compost 10lb
Charlie's Compost: Concentrated Organic Plant Fertilizer to Improve Garden Soil and Potting Soil in...
You Will Love Our Product: Not all compost is created equal. Our compost is not in the same category as the bag you...
Healthy Plants: If you want beautiful, healthy and vibrant plants in your vegetable garden, this is the product for...
Ingredients: Charlie's Compost is made from the finest quality compost inputs including vegetarian & antibiotic...
Certified Organic: Our organic certification means that our product is all-natural, safe and appropriate for use in...
Why Use Our Product? Synthetic fertilizer addresses the "symptoms" of soil deficiency by dumping chemicals into the...
Last update on 2023-09-06 / Affiliate links / Images from Amazon Product Advertising API
While looking for composted manure, I came across Charlie's compost and found that many people are fond of it. So I decided to try it, and to my surprise, it does what it says it will do, making it the best compost for roses.
The compost boasts lots of ingredients, including chicken manure, cornstalks, straw, hay, clay, microbes, and forest products, all of which are composted between 8 and 12 weeks.
Image Source: charliescompost.com
However, this may not be your average NPK product as I found out that it doesn't contain a lot of these ingredients (Nitrogen .5, Potassium .4, and Phosphorous .5). Despite this, it contains lots of beneficial microbes that roses need.
Using this compost varies depending on how good or bad your soil is. As for my garden soil with limited organic material, I added about 4 inches of this compost before the plating season began. However, if your soil has enough organic matter, a 1 or 2-inch layer should do the job.
It's hard to tell if this is 100% organic compost. The manufacturer has stated it has its own chicken manure and other locally sourced organic materials.
2. Gro-sure 11200018 All Purpose Compost with 4 Months Plant Feed
Gro-sure 11200018 Purpose Compost, Dark
Features 4 months of plant feed to boost your plants for the majority of the growing season.
Contains West+ Technology to reduce peat quantity.
Suitable for beds, boards, pots, containers and other areas in your garden.
10L will fill 1 28cm Pot
Pack features a helpful carry handle for easy moment around the garden.
Last update on 2023-09-06 / Affiliate links / Images from Amazon Product Advertising API
When I landed on the Gro-sure 11200018 All Purpose Compost, I knew it was a great product, not just from the great reviews but also because the Westland brand speaks for itself.
According to Westland, the goal of creating Gro-Sure All-Purpose Compost was to ensure consistent gardening success for everyone who uses it. I loved the fact that this high-performance compost comes with 4 months' worth of feed.
It also boasts a patented West+ wood fiber technology that helps reduce peat quantity for unparalleled plant health and growth. Although I used it in planting my rose plants in a potted container, I found it to be excellent in hanging baskets, beds, borders, and other areas of your garden.
Image Source: gardenhealth.com
Furthermore, I used approximately 50% less watering and found it to be 50% lighter than your typical multi-purpose compost. This made it easier for me to move it around the house and yard. It also features a beneficial carry handle packaging for easy movement.
Its great moisture retention also stood out for me. This gives any gardener the best chance of success in rose plant health and growing results.
3. Michigan Peat 5240 Garden Magic Compost and Manure, 40-Pound
Last update on 2023-08-28 / Affiliate links / Images from Amazon Product Advertising API
Moss and manure are the two main ingredients in Michigan Peat 5240 Garden Magic. An odorless combination of composted manure and natural reed sedge peat. This compost seems to be well-liked by gardeners, as indicated by the numerous excellent reviews.
It boasts a combination of an odorless combination of composted animal manure and natural organic reed sedge peat. As a result, it's not only perfect for a rose garden but also a wide variety of plants, thanks to its high nutrient content from natural sources.
This is because this blend of organic peat and manure has been screened for consistency and found to be uniformly moist and fibrous. My rose soil was improved, and the plant had amazing outcomes.
Image Source: michiganpeat.com
However, I found that the use of peat moss is somewhat debatable. Many gardeners use it because its springy fibers prevent the soil from getting hard and compacted.
Some people despise it; among them are gardeners in the United Kingdom. This is because peat moss harvesting causes excessive carbon emissions and destroys the swampy areas where it grows.
4. Great Big Roses Compost Concentrate for Roses and All Flowers
Great Big Roses - Soil and Fertilizer Booster; 1 Gallon Concentrate (Makes 32 Gallons)
IMPROVES SOIL: Our product infuses soil with a combination of selected ingredients that work together to improve...
IMPROVES FERTILIZER UPTAKE: Our compost extract brings benefits right into the root zone to convert more fertilizer...
LOADED WITH UNIQUE INGREDIENTS: Proprietary compost extract supplies all the benefits of traditional compost, plus...
STARTS WORKING RIGHT AWAY: Immediately flows to the root zone. Our formulation is designed to start working right...
EASY TO USE: Just mix 4 ounces of our compost extract with a gallon of water. Apply a pint or more of the mixture...
Last update on 2023-09-06 / Affiliate links / Images from Amazon Product Advertising API
If you're seriously looking for the best compost for roses, you're likely to come across the Great Big Roses, one of the most devoted brands in the rose-growing industry. You can expect a higher flower set and longer floral retention with Great Big Roses Compost Concentrate.
I loved that this compost had a range of organic and natural ingredients, including humic acid, kelp meal, and different micronutrients, improving my soil quality.
Image Source: greatbigplants.com
My rose plants didn't take long before they started to improve. They started to gain from the improved soil structure, more nutrients, and bigger root development. As a result, the roses became bigger and more diversified in size.
Remember to dilute this concentrate before using it. I used 4 ounces of compost with 1 gallon of water. You can always order different amounts depending on the number of plants in the rose bush.
5. Fishnure 8 Pound Odorless Organic Humus Compost
Sale
Fishnure 8 lb Odorless Organic Humus Compost Fish Manure Bio Fertilizer - OMRI Listed - with Living...
✅ORGANIC NATURAL FERTILIZER: Organic, living fertilizer and soil conditioning humus compost made from fish manure...
✅KEY BENEFITS: Increased yield, aeration, water holding capacity, soil fertility, and organic matter.
✅HIGH CONCENTRATION: 1 pound treats up to 60 square feet, allowing you to cover large spans of area with an...
✅LONG-LASTING: Organic matter is bound to the microscopic clay particles in humus compost and won't decompose...
✅ODORLESS: Humus compost has no fishy smell and instead has the smell of freshly tilled soil, keeping your shed...
Last update on 2023-09-06 / Affiliate links / Images from Amazon Product Advertising API
You can never be disappointed by fish manure compost, a great organic compost for your rose garden. This fish manure compost is exactly what it sounds like: compost manufactured from fish waste.
To become humus, the materials in fish manure must first combine with clay, then be decomposed by microbes. The polymers can't form without the structure that the clay offers.
Image Source: fishnure.com
I loved that this compost is odorless, just as it claims, which helped with soil amendment without giving off any unpleasant odors. On top of that, a single bag kept me going for a long time and allowed me to cover a lot of ground.
Using fish manure as the basis, this product creates a humus that improves the soil. It contains microbes that aid in decomposition and supply plenty of nutrients, so it may be used to sustainably feed rose bushes of any kind over a long period of time.
What Factors Do You Consider Before Choosing the Best Compost for Roses?
1. Types of Compost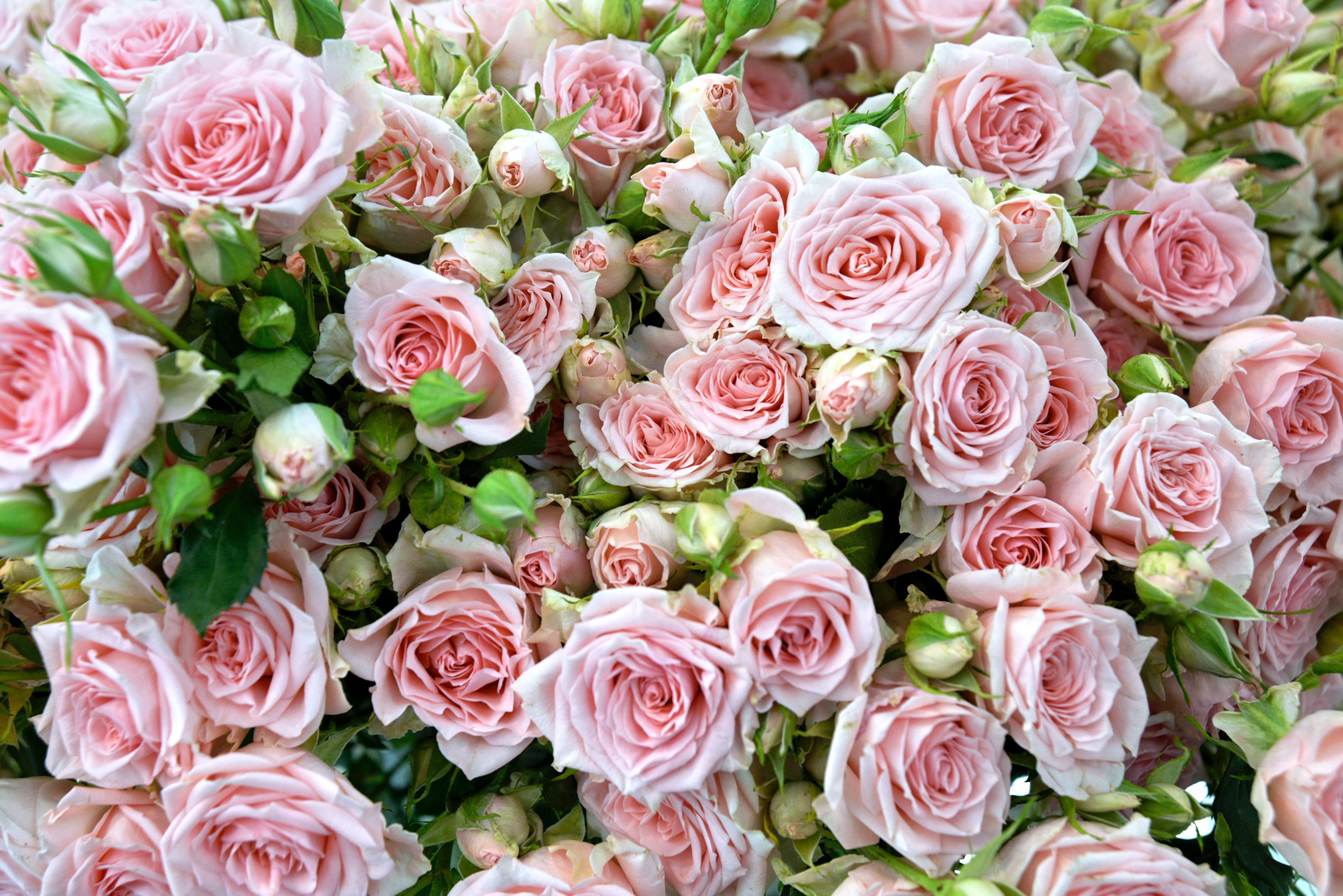 There are many different types of compost, including;
Peat-based compost- This is made from peat combined with other ingredients like sand or grit, vermiculite or perlite, lime, fertilizer, and wetting agents.
Loam-based compost- It includes a mixture of sand or grit, loam, and peat.
Peat-free compost- This can be made from several ingredients, including wood fiber, green compost, coir, and composted bark.
Organic compost- It has a mixture of different organic materials in varying proportions, including composted bark, expanded wood fibers, and peat.
Multi-purpose compost- It comes with different blends of ingredients that can be used in hanging baskets, containers, pots, beds, or borders.
2. Size of the Bag
Considering factors like price and size is crucial when shopping for compost. While a bag may appear to be a better deal, the compost it contains may be less. Make some comparisons to find the best value.
3. Odor Free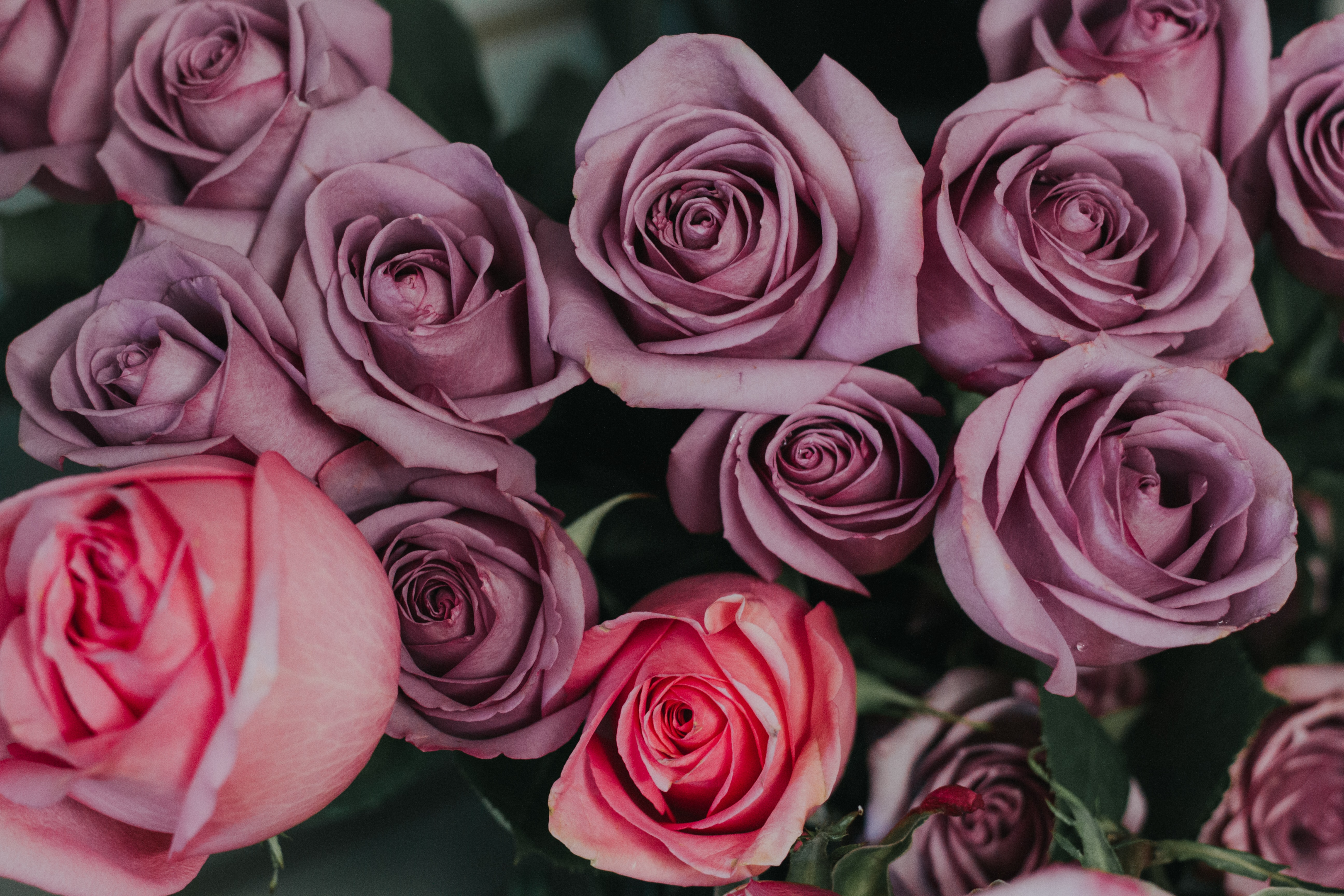 Some composts contain materials that, when moist, emit a very pungent smell. To a greater extent, this is true of items that include either worm castings or manure in their ingredients. The unpleasant odor will fade with time. However, if you are sensitive to odors, look for a blend that specifically indicates that it has no odors.
4. Form
Compacted pellets are one form that the best compost for roses might take. There will be less of a hustle when you pour them out of the bag as opposed to if the compost is loose. However, they need more water before they can start to release nutrients into your poor soil.
How to Add Compost to Roses
1. Ingredients and Amount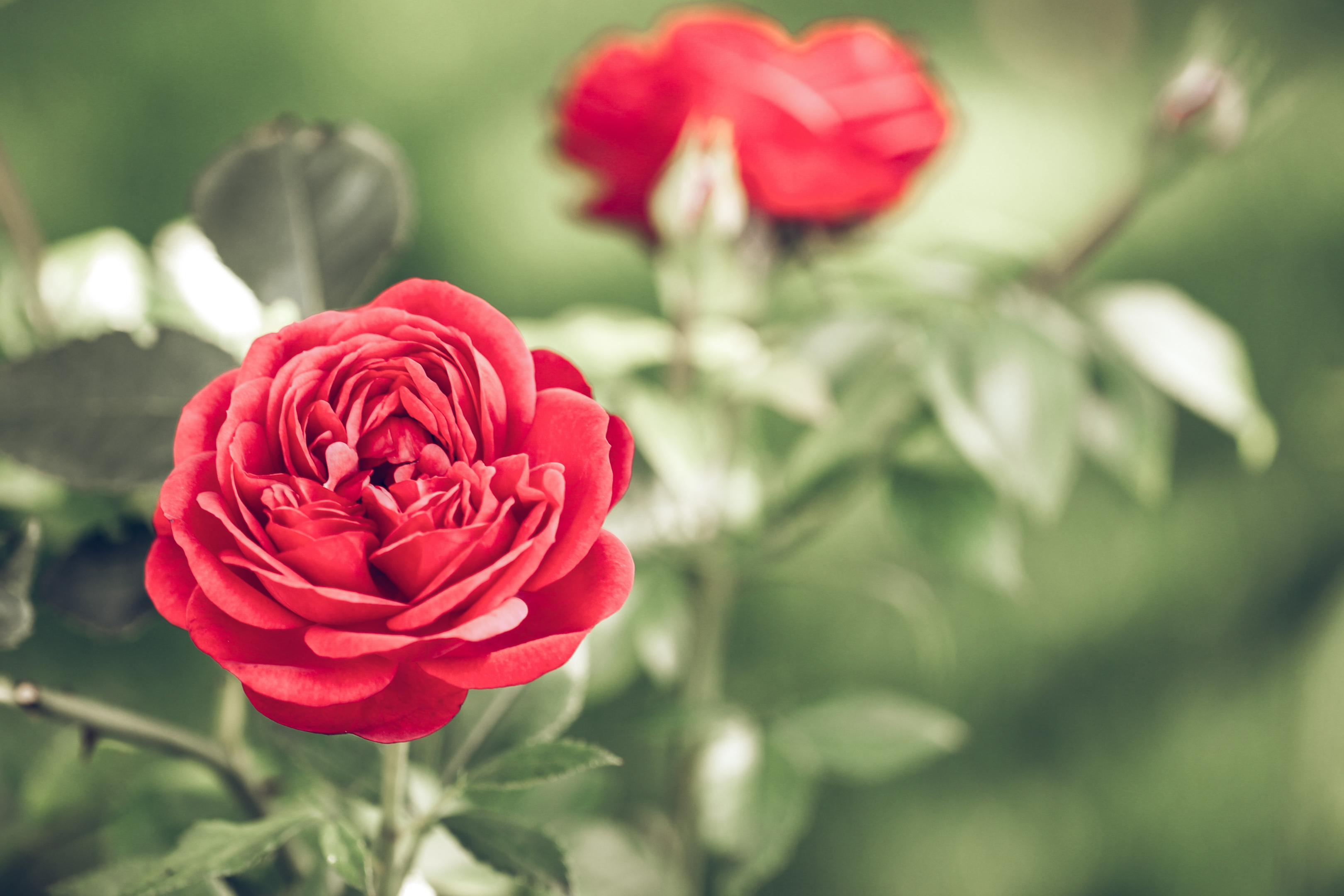 Plant growth sometimes doesn't come naturally; a lot goes into it. Adding compost is a great idea to ensure moisture retention as well as great drainage to provide a great growing environment that roses prefer.
So, how much compost do you need, and how do you apply it? Here are the steps you should follow when adding compost to the garden soil while planting roses;
First, dig a hole at least 14 inches deep and 18 inches wide.
Remove the top two-thirds of the soil from the hole, and place it on a tarp or plastic paper. (The other one-third of the soil doesn't have a lot of nutritional value.)
Add compost to the soil you removed in a ratio of 2:1, where 2 represents the soil and 1 is the compost.
Adding half a cup of bonemeal or bloodmeal helps provide additional phosphorus and nitrogen.
2. Spreading
As already mentioned, compost can be used as an efficient mulch for roses to help them retain moisture, provide nutrients, and protect them from frost. To properly apply the compost, the layer of mulch should be 3-4 inches thick. Spread at the base of the plant, ensuring that you extend it at least 10 inches from the stem.
3. Timing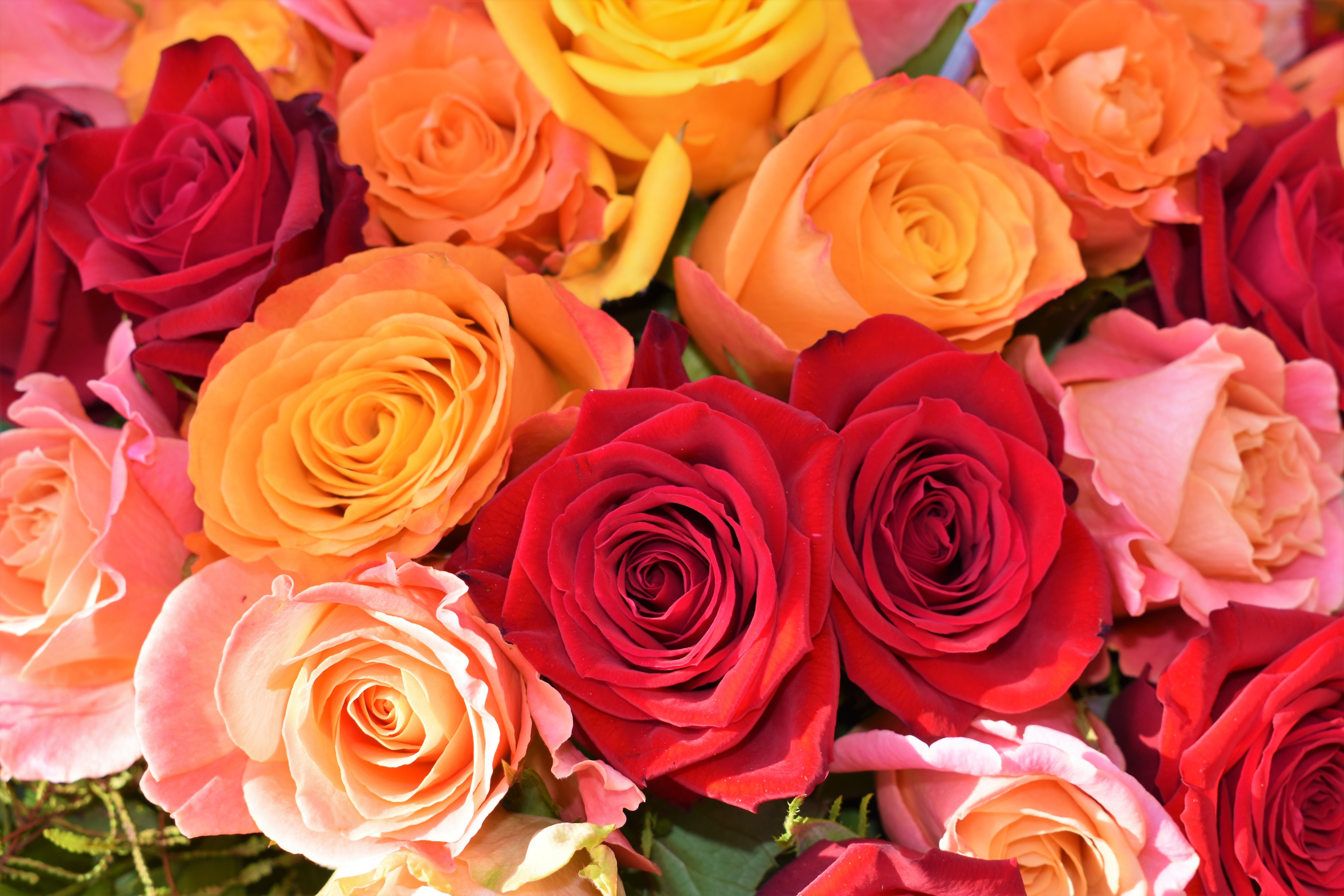 Roses need compost when they are first planted. However, the timing of compost application will vary depending on the compost you're using.
If you're using mulch compost, it is recommended to add it before the weeds start to grow, usually in the early spring. Then, you can add it again before the first frosts, usually in the late autumn.
On the other hand, if you're not using compost in the form of mulch, you need to add a handful of compost to your roses every 3-4 weeks during the growing season.
Established roses need an additional half a cup of bonemeal or bloodmeal in the early summer or mid-spring.
Frequently Asked Questions (FAQs) on Compost for Roses
1. How often should you add compost to roses?
Roses benefit from regular monthly composting throughout the growing season using economical garden compost. Bonemeal and Epsom salts, each at a half cup, should be used in the first compost of the season to encourage robust stem development.
2. What is the best soil mix for roses?
Due to its high aeration and nutrient density, loamy soil is the most desirable. Inorganic materials, including silt, sand, and clay, generally make up roughly 46% of loam's overall composition. It is also a great option for a rose garden because it contains at least 4-6% organic material.
3. Is ericaceous compost good for roses?
When the soil a rose bush is put in is alkaline, ericaceous compost can help the plant thrive. Acid-weak soils can lower their pH levels by using ericaceous compost, which promotes optimal rose growth. However, adding ericaceous compost can harm rose bushes if the soil is naturally acidic.
4. Is mushroom compost good for roses?
All rose varieties thrive when planted in organic material, including mushroom compost. Instead of mulch, some gardeners use mushroom compost at the bottom of planting holes. Compost made from mushrooms is rich in nutrients and organic matter, making it a great soil improvement.