The best way to get the best compost is to have a dual-chamber compost tumble. Over time, I have used different compost tumblers, from very useful countertop compost bins to some electric composters. However, these composters had some flaws that the dual chamber compost tumbler covers.
So, what is the best dual-chamber compost tumbler in the market? Here are a few that I have come across.
What is a Dual Chamber Compost Tumbler?
Image Source: helpmecompost.com
A compost tumbler is a sealed container in which kitchen and other waste are turned into compost through heating generated by the composting process. A dual-chamber compost tumbler has two containers in which two composting processes can happen concurrently.
So, what is the best dual-chamber compost tumbler?
Best Dual Chamber Compost Tumbler
| | | | |
| --- | --- | --- | --- |
| | | | |
| | | | |
| | | | |
| | | | |
| | | | |
1) FCMP Outdoor Composter
Sale
FCMP Outdoor IM4000 Dual Chamber Tumbling Composter Canadian-Made, 100% Recycled Resin - Outdoor...
Made in Canada from 100% post-consumer recycled plastic - The original 8-sided dual chamber tumbling composter.
TUMBLING COMPOSTER – Avoid digging and mixing your compost pile by hand. The tumbling design makes mixing easy...
EASY TO USE – Fantastic for beginners! The large openings and removable door make it easy to add scraps/clippings...
TWO COMPOSTER CHAMBERS ARE BETTER THAN ONE – Two separate sides allow the first side to finish while leaving the...
EXCELLENT AERATION – All our composter models feature aeration holes as well as deep fins to break up clumps...
Last update on 2023-05-29 / Affiliate links / Images from Amazon Product Advertising API
Image Source: bobvilla.com
This tumbling composter is a favorite because I can keep it outdoors without worrying about the weather. In addition, the tumbler is easy to work with as I only need to turn it twice or thrice every three days, all without getting my hands dirty.
FCMP outdoor compost tumbler reviews are over the roof because of users' good experiences that I can relate to. The tumbler is BPA-free, and the components are not affected by UV.
The compost tumbler is made of recycled plastic, making it environmentally friendly. In addition, the frame is made of galvanized steel that is corrosion-resistant, which is a material I prefer over others.
2) VIVOSUN Outdoor Tumbling Composter
Sale
VIVOSUN Outdoor Tumbling Composter Dual Rotating Batch Compost Bin, 43 Gallon Black Door
Twin chambers: Two separate chambers allow one side to finish composting while leaving the other side available to...
360⁰ Tumbling Design: The rotating design prevents you from digging or mixing the pile by hand; And the deep fins...
Excellent Aeration: Air vents can make the air fully circulate and will not cause an explosion due to excessive...
Sturdy & Durable Construction: Constructed of premium metal frame and high-quality pp plastic body, this tumbling...
Garden Gloves Included: The gloves that not only protect your hands from injury, but are also waterproof, making...
Last update on 2023-05-29 / Affiliate links / Images from Amazon Product Advertising API
Image Source: vivosun.com
This tumbler is my top choice because it has a 360-degree tumbling design. This makes the best out of the compost in the tumbler, ensuring it is well mixed up. Coupled with good aeration holes, the compost coming out of the composter was the best I got.
The tumbler comes with garden gloves that I used to comfortably handle the work. The gloves are waterproof and have plastic claws for digging into veggie waste or soil during compost application.
3) Miracle-Gro Dual Chamber Tumbler
Dual Chamber Compost Tumbler – Easy-Turn, Fast-Working System – All-Season, Heavy-Duty, High...
GROW A HAPPIER GARDEN – Do you look at other's gardens with envy? Give your plants the nutrient-dense...
KEEP THE NUTRIENTS COMING – Achieve your gardening goals with a steady supply of ready-to-use compost! This...
NO MORE HEAVY LIFTING – Miracle-Gro is here to make composting easy for beginners and seasoned green thumbs...
A BRAND YOU TRUST – With the help of Miracle-Gro, both you and your garden will thrive. As America's most...
Achieve your garden goals with a pair of Scotts multi-purpose gardening gloves! Each pair is latex-free,...
Last update on 2023-05-29 / Affiliate links / Images from Amazon Product Advertising API
Image Source: miraclegro.com
Finding a tumbler for all seasons is difficult, and Miracle-Gro is the best. However, I enjoy using this tumbler during winter for my garden.
Miracle-Gro is a large-volume tumbler to take on all my kitchen waste and make enough compost for my lawn and kitchen garden. The dual-chamber tumbler is heavy-duty and easy to use.
Miracle-Gro has an aeration system that allows oxygen for composting. In addition, the mixing bars in the composter have bars for faster curing and healthy compost for my garden.
4) EJWOX Compost Bin
Garden Compost Bin from BPA Free Material, Dual Rotating Outdoor Composting Tumblers (43...
DUAL CHAMBER COMPOST BIN - Dual chamber composter allow for continuous composting. Fill up one while the other...
AERATION SYSTEM- Aerated internal bar mixes compost & allows needed airflow.Black, double-wall panels absorb and...
INGENIOUS TUMBLER DESIGN - Turns on axis for easy and balanced rotation.Easy slide doors will help keep track of...
CONVENIENT LOADING HEIGHT - Enough height to put a cart under this compost tumbler.Easy to turn barrel, waste mixed...
STURDY POWDER-COATED STEEL FRAME - Powder-coated steel frame provides a sturdy base for the large compost...
Last update on 2023-05-29 / Affiliate links / Images from Amazon Product Advertising API
Image Source: walmart.com
EJWOX has a sturdy design that turns on its axis for neatness and ease of use. The doors are easy to slide, and the compost is easy to access. The design is not only genius but sturdy and long-lasting.
Unlike most compost tumblers, EJWOX has a good loading height. The compost tumbler has a 360-degree rolling design to keep the composting process even and fast.
5) SQUEEZE Master Compost Bin
SQUEEZE master Compost Bin 43 Gallon Outdoor Tumbler composters Garden Tumbling or Rotating Compost...
🌱Efficient Compost:Easy to rotate and the Air Holes make the composter have the best air circulation,give you...
🌱Better to Use: Dual Compartment,you can use 1 side firstly then another one.More choices,more health.43...
🌱More Easily: The compost tumbler design just need you to rotate it slightly,without having to dig, turn, and...
🌱Super High Quality: Made of PP & BPA-Free; Steel Frame & Very Sturdy. Its maximum load bearing is 352Lb.The...
🌱Reliable After-Sales Service: It is always our tenet to give our customers the most professional compost bins...
Last update on 2023-05-29 / Affiliate links / Images from Amazon Product Advertising API
Image Source: pinterest.com
SQUEEZE is a 43-gallon capacity bin that can squeeze in all the waste from my kitchen. The tumbler is designed to lead to high-quality compost. Because of its reliability, SQUEEZE is easy to use and efficient compared to other tumblers.
The tumbler is shaped so that a small rotation will mix up the compost well. The tumbler is BPA-free and is safe for plants when I use it in the garden.
Advantages of the Dual Chamber Compost Tumbler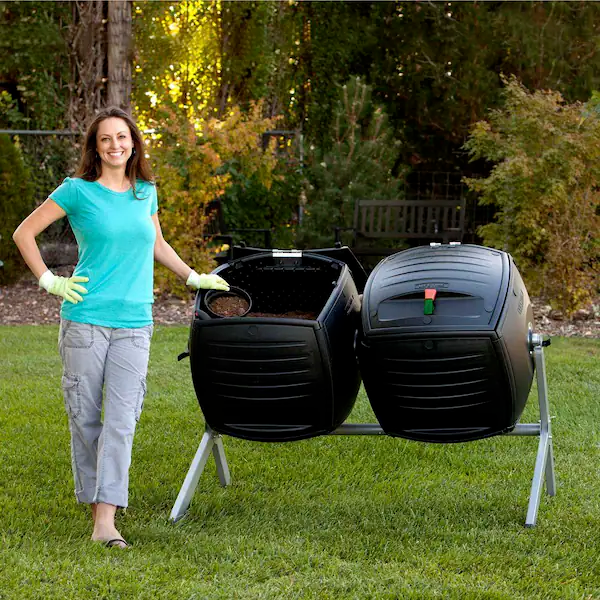 Image Source: homedepot.com
i) Sufficient Composting
It takes over a month to get high-quality compost. For this reason, it is better not to interfere with compost already on its way to curing. For example, mixing a 5-week-old compost and fresh vegetable scraps might slow the composting process.
Dual chambers allow you to start over in a new chamber when one is curing.
ii) Capacity
Most dual-chamber compost tumblers have more capacity compared to single-chamber composters. A large capacity can serve a whole yard more efficiently.
iii) Two Compost Types
A dual-chamber compost tumbler allows me to come up with different types of compost simultaneously. There are two types of compost; brown and green compost.
Brown compost can consist of long-held materials such as grass clippings, dead wood, twigs, etc. On the other hand, green compost is made of fresh vegetable scraps, grass clippings, fruits, manure, and more.
Dual-chamber compost tumblers allow the two types of compost to go simultaneously, widening my scope of use when making compost manure.
Dual Chamber Compost Tumbler Buying Guide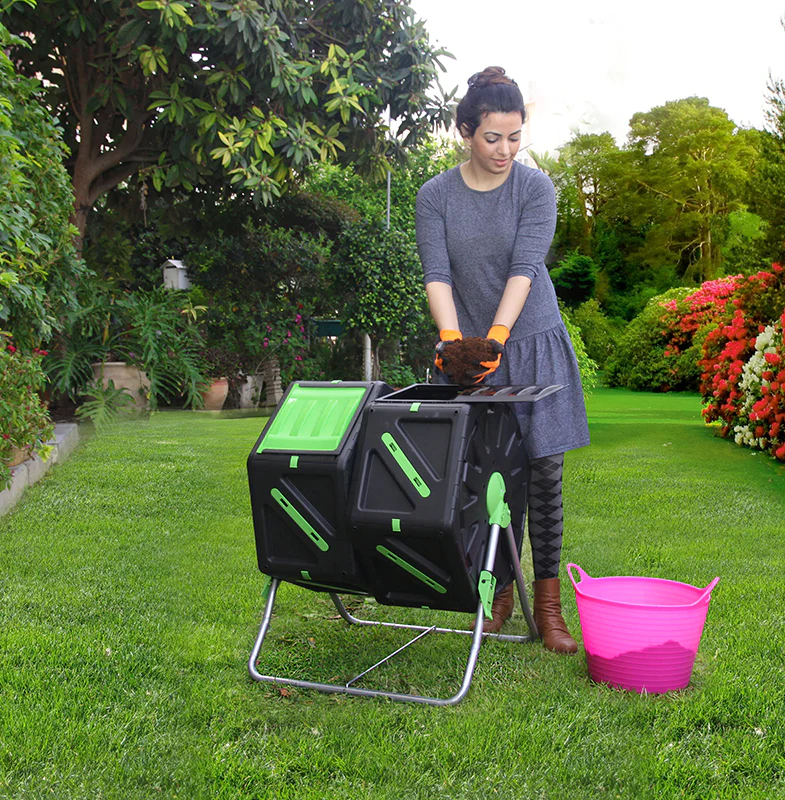 Image Source: frontiergardening.com
When buying a compost tumbler, there are some features I look at before making a purchase. Here are some features I consider before buying a tumbler.
a) Capacity
How much organic waste you produce will determine the size of the compost tumblers you get. The sizes of the tumblers are measured in gallons; that way, you can know the amount of food waste the tumblers can take.
Tumbler size will also depend on the area you want to use compost fertilizer. For example, if you have a tiny kitchen garden, you do not need a large-capacity tumbler because you will have more compost than you need.
b) Type of Waste
The type of waste you will put in the tumbler bin will determine the type of tumbler you go for. For example, using the tumbler composter for yard waste will be slightly different from using a tumbler for kitchen scraps. Yard waste can be more than kitchen scraps in amount and composition, hence a need for an appropriate tumbler size.
c) Material
Different tumblers are made of a different materials. For example, there are tumblers made of plastic and steel. A plastic barrel will have some advantages over steel and vice versa.
Steel might have challenges of rusting and temperature changes, and this is why I tend to go for plastic tumblers instead. However, the temperature is a big factor in composting kitchen or garden waste.
d) Pest Control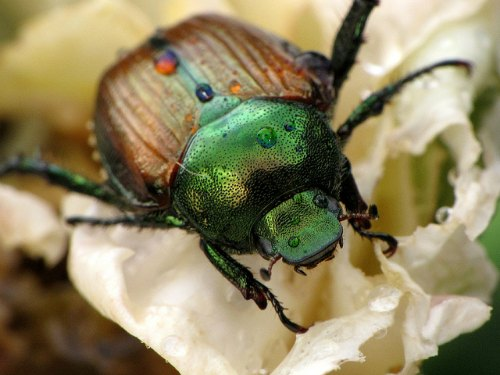 Image Source: gardenmyths.com
Wherever there are food scraps, you can expect to find rats and other insects like roaches and flies. Pests can discourage you from using the tumblers because they are unhygienic. Tumblers with good pest control are one you should go for.
e) No Leakage
During the composting process, fluids and smells can come from the tumbler. To avoid unpleasant odors and leakages, look for a watertight tumbling composter.
A bin that is not sealed also has a high probability of letting in pests and attracting more due to odors and leakages.
f) Location
Where you place the compost tumbler will determine the size of the tumbling composter you will be going for. A backyard has a larger space than a porch or balcony. There are differently-sized tumblers, and the location should not be your biggest worry.
g) Weight
If you live in an apartment and you have to carry the tumbling composter in and out of the house once every while, it is wise to get a light tumbling composter. The weight of the tumbler will depend on how much gallon capacity the tumbling composter has.
h) Wheels
I am personally not comfortable carrying the tumbler around. Wheeling the tumbling composters from one location to the other is easier and safer. If a tumbler has no wheels, the chances of spilling the contents increase.
i) Frame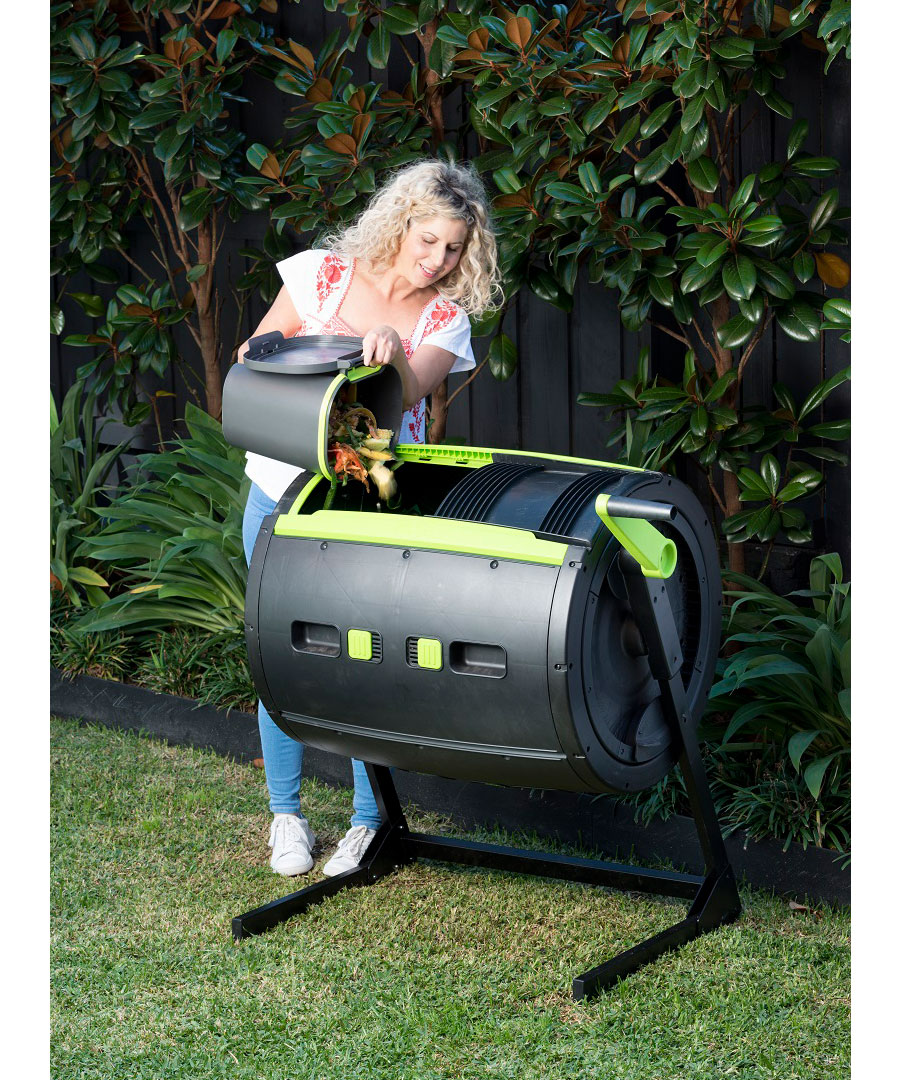 Image Source: mazeproducts.com.au
While I tend to go for plastic tumbling composters, I prefer a steel frame over plastic chambers. A zinc-coated metal frame or steel is better than plastic, which might not be as sturdy.
j) Offload Method
How the compost comes out of the tumbler matters to me. I do not like handling compost or waste, and how I remove it from the tumbler is a huge factor in the type of tumbler I will get.
k) Aeration Holes
The micro-organisms in the compost tumblers need to breathe to break down the nutrients better. A tumbler with no aeration holes will have smells you can not be comfortable with, especially if the compost tumbler is in the house or porch.
Aeration can be in the form of holes, fins, vents, or small doors.
l) Shape
The shape of the compost tumblers will determine how the food scraps will "tumble" in the bin. If the shape is flat, the scraps in the bin will tend to slide. If the shape is more hexagonal or any other shape than a circular cross-section, the scraps in the bin will topple and roll, making them mix better.
m) Ease of Assembling
Putting together the bin after purchase should be an easy task. Most bins come with a user's guide, and it is a walk in the park most of the time.
When the compost tumblers are not well assembled, they can have leakages and flaws that make them harder to use and less effective.
n) Adjustable Air Vents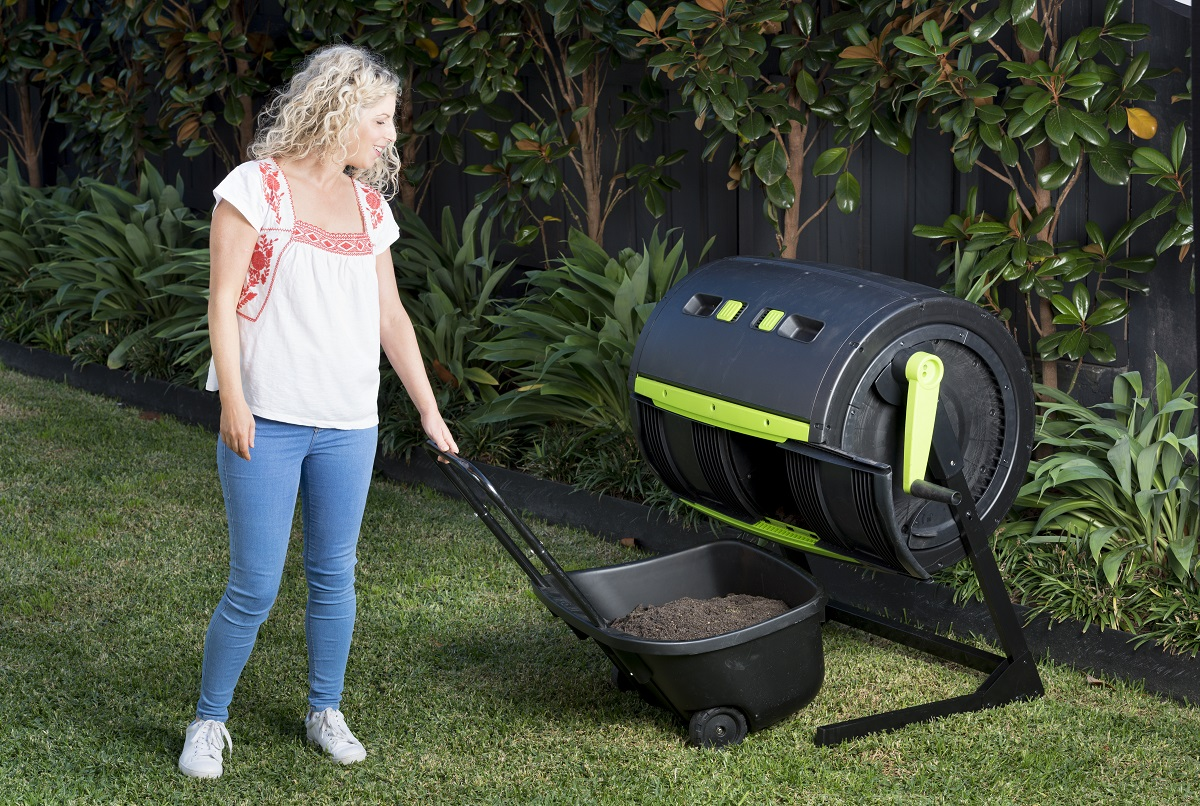 Image Source: mazeproducts.com.au
Weather changes and the amount of compost in the tumblers may require that you play around with the air vents once every while. A tumbler with controllable air vents gives me more control than one without.
The vents can be a way to monitor the compost without having to open the whole lid. Then, after many rounds of composting, you can tell when you are ready to use compost.
o) Compost Tea Reservoir
You do not want to be wiping the fluids coming out of the tumbler from the floor or have it flow to the ground. To avoid this, double-chamber compost tumblers have reservoirs that collect the compost tea for other uses or disposal.
Dual Chamber Compost Tumbler Tips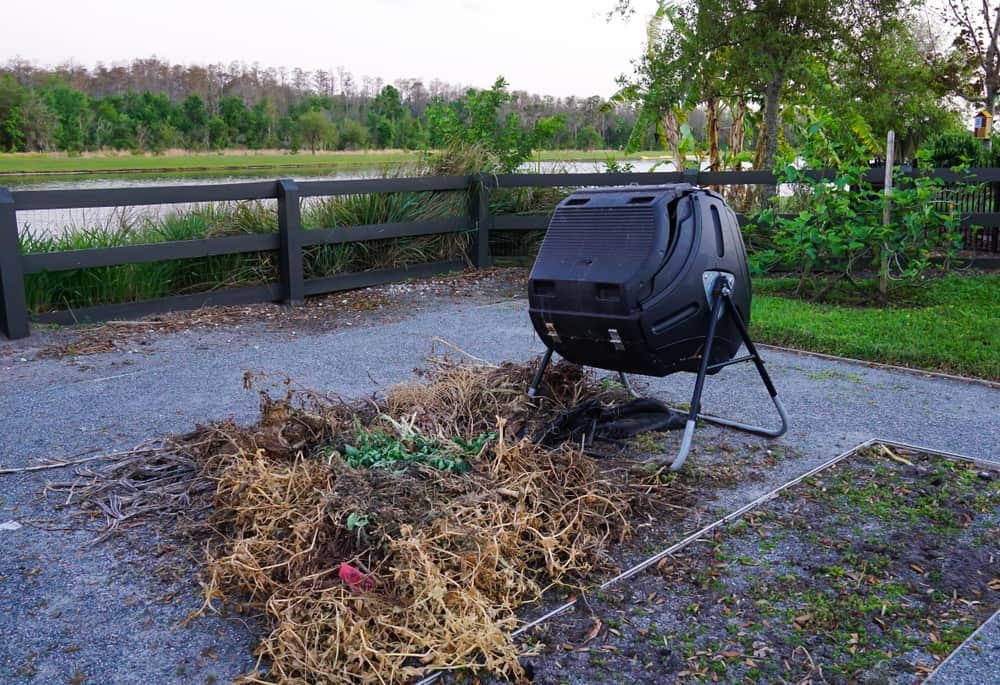 Image Source: thedailygardener.com
What are some things you can do once you have bought a dual-chamber compost tumbler to get the best out of the composting process?
a) Chop the Vegetable Scraps
Just like chewing before you eat, the body breakdown the food faster; chopping down and shredding the compost helps the bacteria decompose the scraps faster.
When the composting process happens faster, the chances of the compost attracting pests and bugs are reduced. Furthermore, since organic waste is produced constantly, more space will be created for new waste when the composting process happens faster.
Hot-Tip: I use the blender to break down items like stalks and peels. This saves me the time I would use to chop the items.
b) Activate Your First Ever Compost Tumbler
Sometimes bacteria and fungi need to be activated. For yogurt to be made, bacteria must be introduced to milk to kickstart the process. The same happens to the compost pile in your tumbler.
When you buy the tumbler for the first time, it is still sterile as the plastic or metal does not have the appropriate bacteria on the surface to kickstart the process. So I did, for the first time, activate the compost tumblers by adding cow dung into the mix.
You can use horse manure or buy a readymade compost activator to kickstart the process in the tumbler.
You can heat the compost…
c) Re-Use the Compost Tea
I never dispose of the compost tea after collecting it as I can use it as fertilizer. To make it useful, I mix the compost tea with some water using the correct ratio for the plants to absorb the fertilizer without getting a fertilizer burn.
Suppose you can avoid getting the compost tea from excess moisture, the better for you. However, there are instances when getting the compost tea is inevitable, depending on the compost piles in the tumbler.
d) Avoid Adding Animal Products
Vegetable compost is not as harmful as having meats in your compost tumbler. However, the pathogens from meats and other animal products are very harmful, and I would not recommend anyone to have them in their bin.
Avoid adding bones to the compost because they do not break down and may harm people or pets once used in the yard or garden. In addition, bones can cause nasty pricks and cuts.
c) Other things to Avoid Putting in the Compost Tumbler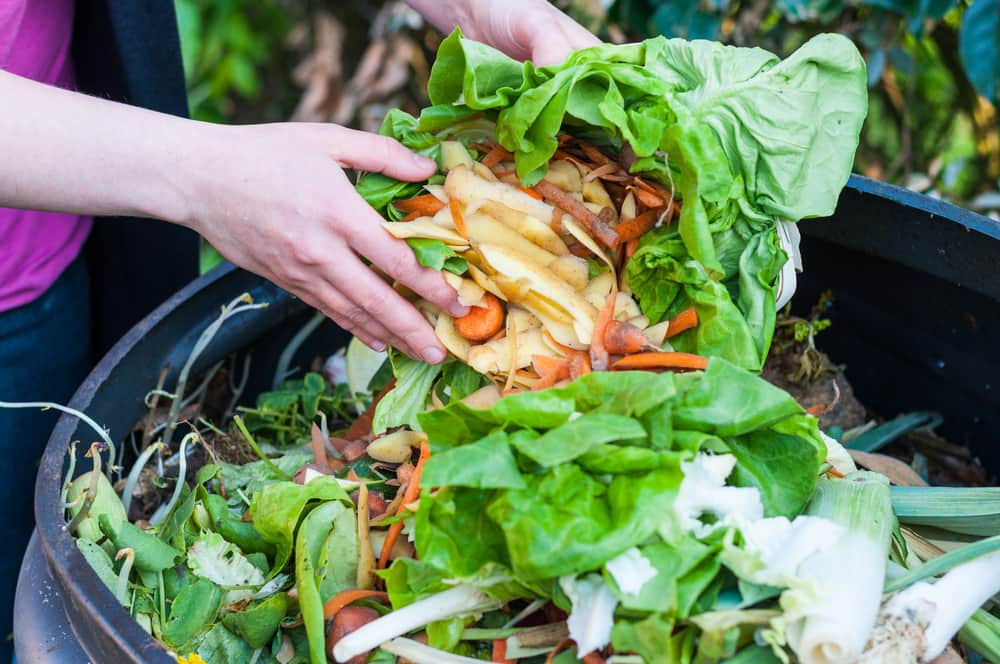 Image Source: gharpedia.com
Not all kitchen waste has to go into the tumbler. Some items to avoid include pet waste, ash or charcoal, plants with diseases, and oils. I stick to using the normal kitchen veggie waste.
d) Balance Carbon and Nitrogen Ratio
If the ratio of carbon and nitrogen is not balanced in the tumbler, the compost might not turn out as expected. The carbon and nitrogen ratio needs to be better balanced; you might end up with either a slimy substance or a fluffy and useless outcome.
One way to create a C/N balance is by adding shredded newspaper. Be careful when adding paper, as some can contain harmful inks. Go about it with moderation.
e) Fertilize the Lawn at the Right Time
When you fertilize the lawn or garden at the wrong time, your efforts to make the compost will go to waste. I use the right amount of fertilizer and identify the right time to fertilize my lawn for the best outcome.
Final Thoughts
Since kitchen waste is a constant supply, it is good to find a compost tumbler to handle the pressure. Please find the best compost tumbler among the ones we have highlighted above.