You have properly prepared your compost, but it is not working well in your yard or garden, and you are wondering why. The answer lies in the application process. I realized that the users needed the best pitchfork for compost they could lay their hands on. Due to that, I decided to suggest some pitchforks I have used before.
What Is a Compost Pitchfork?
A compost fork is a pitchfork with relatively long and thin tines for lifting, distributing, and sorting lightweight compost material. Unlike other forks, this one is not meant for digging.
It is often easy to confuse the other types of forks with compost forks. I have highlighted my best fork options. Later, I will help you identify other fork types to avoid getting them instead of the compost pitchfork.
Best Pitchfork for Compost
| | | | |
| --- | --- | --- | --- |
| | | | |
| | | | |
| | | | |
| | | | |
| | | | |
1) Truper Manure Fork
Truper 30323 Manure Fork - 5-Tine, Fiberglass Handle with 9-Inch Non Slip Grip, 50-Inch
For use in agriculture, farming, gardening, and greenhouse. Designed perfectly for scooping hay and compost like...
One-piece forged steel head construction to handle heavy loads
Non-Slip Grip: resistant and ergonomic handle promoting a safe and comfortable grip
5 sharp pointed tines
Heavy duty fiberglass handle with non slip grip for comfort and control
Last update on 2023-09-07 / Affiliate links / Images from Amazon Product Advertising API
Truper is my favorite fork because it has five tines, a perfect number to have on a fork for varied applications. The tines are slightly curved to make scooping a walk in the park for me. What I like most about the fork is the carbon fiberglass handle that makes the tool lightweight, strong and durable.
Image Source: hallshardware.com
The Truper manure fork has non-slip grips that increase the tool's efficiency and keep me safe as the user.
2) AMES 6 Tine Forged Manure Fork
Last update on 2023-09-07 / Affiliate links / Images from Amazon Product Advertising API
With a hardwood handle for strength, AMES is made for durability and efficiency. The tines are one of the most lightweight ones I have in my garden store and come in handy for me in most situations.
Image Source: runnings.com
AMES is cheaper than most other pitchforks and highly recommended for anyone on a budget. In addition, the fork has an oversized cushion grip which increases my efficiency when using it.
3) A.M. Leonard Fork
Last update on 2023-09-07 / Affiliate links / Images from Amazon Product Advertising API
A.M. Leonard is made to handle any job, a feature I can attest to. The fork has a handle like a spade, making it one of the most efficient ones. The manure fork doubles as a bedding fork, making it a versatile option.
Image Source: earthtoyoulandscape.com
The lightweight and sturdy fork has scooped tines, making it easier to work around the garden without making a mess.
4) A.M. Leonard 6-Tine Fork
Last update on 2023-09-07 / Affiliate links / Images from Amazon Product Advertising API
A.M. Leonard forks are versatile, so I have two in my garden store. The 6-tine A.M. Leonard fork is a game changer because it can handle any job in the garden. The fork is made of forged steel tines, making it a strong and durable option in the market.
Image Source: amleo.com
A.M. Leonard forks are scooped, making them ideal to use for compost.
5) Ames 10-Tine Fork
"Ames" 10 Tine Manure/Bedding Fork
Welded tine construction provides a lower weight and price for this tool
Performs well for moving bulky material such as mulch, straw, hay, etc.
Tines are round but the very tips are not round-pointed like a sharpened pencil
Made with tempered steel and has a 48-inch ash handle for extra reach and leverage
Covered by a manufacturer five-year warranty
Last update on 2023-09-07 / Affiliate links / Images from Amazon Product Advertising API
I got this Ames fork because it has 10 tines, making it useful for me when lifting compost with tiny shreds. Ames comes in handy when I need a fork to hold tiny compost material.
Image Source: homedepot.com
Other Garden Fork Types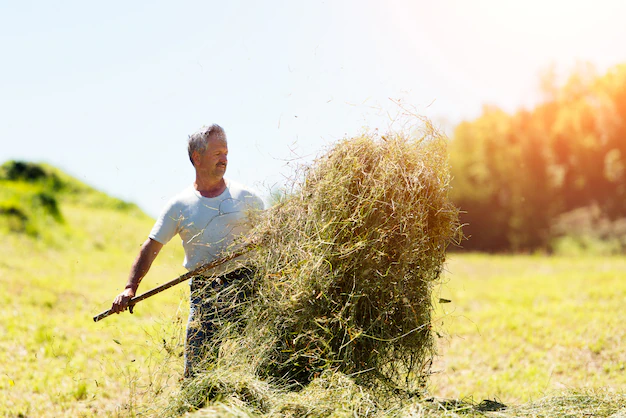 Image Source: freepik.com
a) Garden Fork
Garden forks are the most popular fork type compared to others. The fork has large, flat-faced tines, which sets it apart from other varieties.
The garden fork has front-facing tines for lifting materials, a feature you will not see on most other forks.
The front-facing section of the fork helps harvest root vegetables such as carrots or potatoes. The other things I do with a garden fork include digging up loamy soil and other loose soils like sand. Furthermore, I can use the fork to mix materials or soil nutrients. Finally, I can use the fork to turn the soil too.
b) Potato Fork
The potato fork has a blunt head, one feature that stands out for that kind of fork. It further has large tines that are spaced close together compared to other forks.
Potato forks are easier to identify compared to the others.
c) Digging Fork
Digging forks have thinner tines compared to other varieties. They further have square tines, making it easier to maneuver untouched soil. While the forks can work primarily as garden forks, their purpose is for digging rather than dealing with loose soils.
d) Broad Fork
This is a one-of-a-kind fork as it has two handles on it, unlike any other. Furthermore, the tool has many tines and turns a large amount of soil. Therefore, the choice is great for an undisturbed garden too.
e) Manure Forks
The manure fork is meant more for lifting sticky garden materials. In addition, it can be used on compost. A feature that sets it apart from other forks is the thicker tines, which are four/five in number.
f) Border Fork
A border fork is a smaller version of a digging fork and is also meant for digging. The only difference between the two is that they are shorter and narrower—the functions of a border and garden forks are similar.
g) Spading Fork
The spading fork is great for maneuvering rocky ground and working on succulents. It has square-shouldered heads above the tines and often has up to four tines.
The one feature setting aside the square fork from others is the curved nature of the tines to look like a spade.
Compost Fork Buying Guide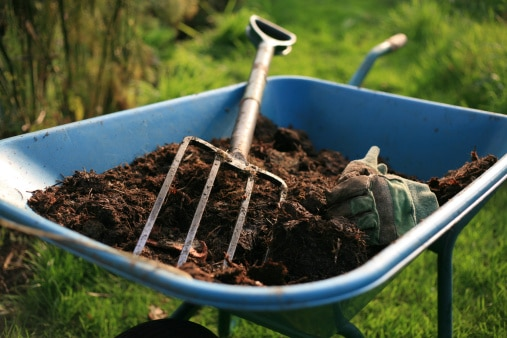 Image Source: ecofarmingdaily.com
There are some features that set the compost fork aside and make its functions easier to execute. Here are the features you should focus on or consider before buying a compost fork.
1) Length
I find it easier to use longer pitchforks. This is because the length matters, which is the difference between the border and the digging fork. Also, I use a longer handle for a compost fork because it is easier to maneuver when working on wet material.
How you choose the length will mostly depend on your body size. Choose a short enough pitchfork not to hurt your back by bending at a steep angle while working on compost. A pitchfork too tall will be troublesome.
2) Weight
Working on compost is not the easiest thing sometimes, and a lightweight fork will make things a lot easier than a heavy fork. Compost forks are for turning compost or sorting the compost pile, which can be tough if the fork is heavy.
Weight is relative. If you want to work with your ten-year-old, they will find a normal fork slightly heavier and harder. Therefore, you can find forks made of different materials, as that will be the major determinant of how heavy the fork will be.
3) Material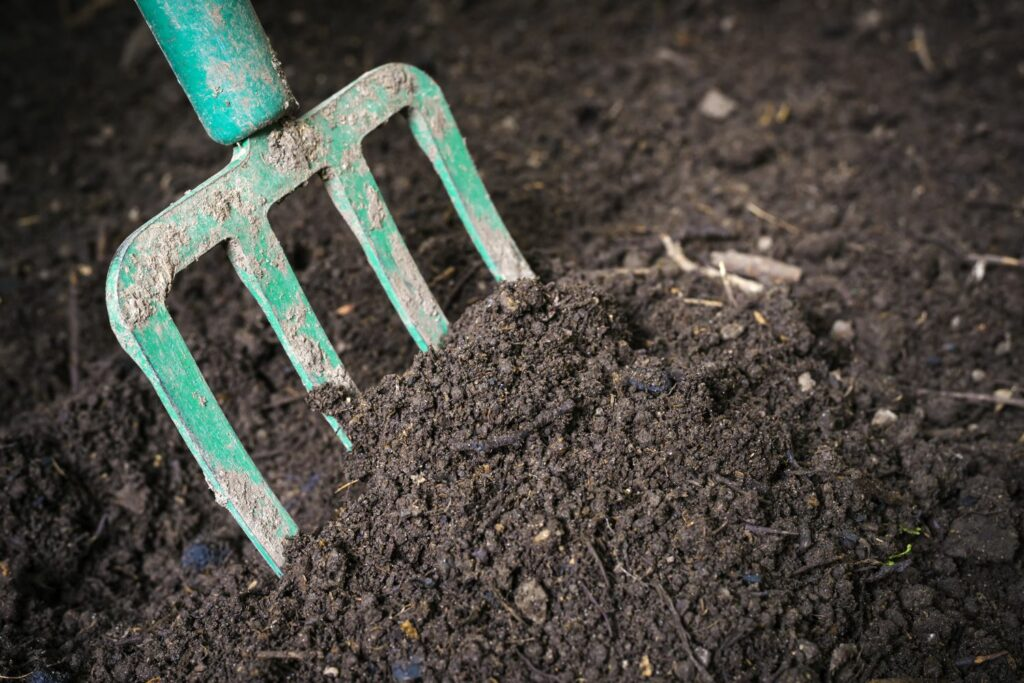 Image Source: plantura.garden
The material used on the pitchfork will determine its weight, function, and durability. For example, a heavy-duty fork is more likely to work in cultivating soil, while lightweight versions are better for working on loose materials.
Here are some materials used on pitchforks.
i) Metal
Most of the time, the tines are made of metal. Sometimes the handle can be made out of steel as well. However, it is quite rare to find metal handles.
The best metal to go for is forged steel tines, which will outlast most other materials.
ii) Wood
Wood is commonly used on the handles of most forks. It is very rare to find wooden tines, but very common to find a wooden handle on a fork.
A wooden handle is lighter compared to a metal handle.
iii) Fiberglass
Fiberglass is the most lightweight option to use on any tool. Furthermore, fiberglass is stronger, sturdier, and longer-lasting than most materials.
4) Tine Shape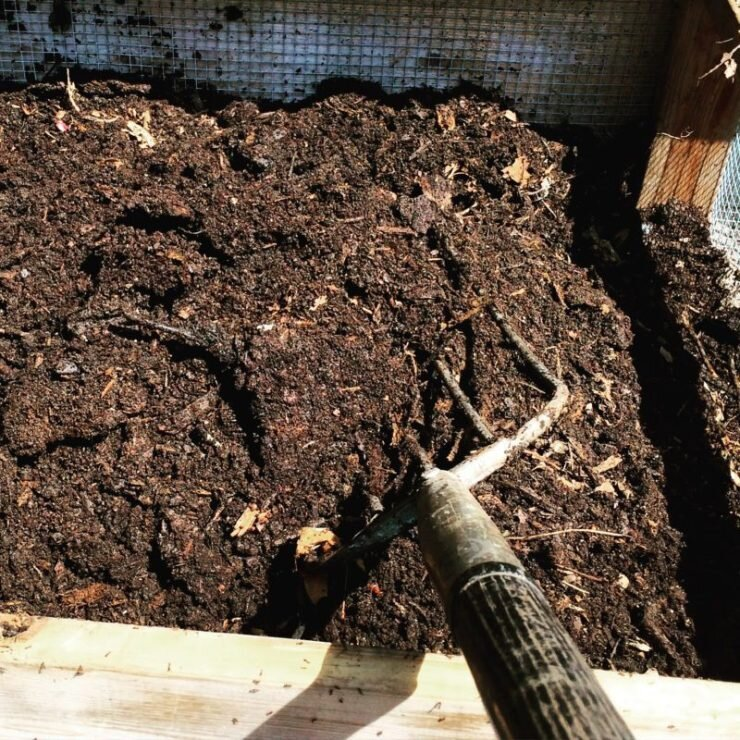 Image Source: heirloomsoul.com
Different tines are meant for different purposes. For example, blunt tines are meant to harvest root crops, while square tines are meant to dig more. Tines can be large, many, flat, round, long, short, thin, and so on. Picking a time will determine how efficiently it works on the project.
A round or square tine will be better for digging and loosening the soil.
You can find triangular tines that can dig too.
Flat tines are better for mixing soils and materials.
Curved tines are better for scooping and lifting compost or other materials.
5) Price
Most garden tools are affordable, and so is a pitchfork. The price was never a worry for me, and I am certain it will not be for you.
6) Handle
Some pitchforks have a handle at the top to hold the shaft of the fork firmly, and some do not. While the handles at the top of a fork are not mandatory, they can come in handy in some situations that involve digging. Handles at the end of the fork are mostly functional in smaller forks used for digging deep into the ground.
7) Number of Tines
The number of tines on a fork is never the biggest factor to check. However, I often consider how many tines a fork has. While most forks have five or four flat tines, others, like the broad fork, should have more.
Four or five tines are enough to get the job done when digging. When collecting material, six or more tines are appropriate. When carrying material, fewer but larger tines are required.
Frequently Asked Questions About Compost Pitchforks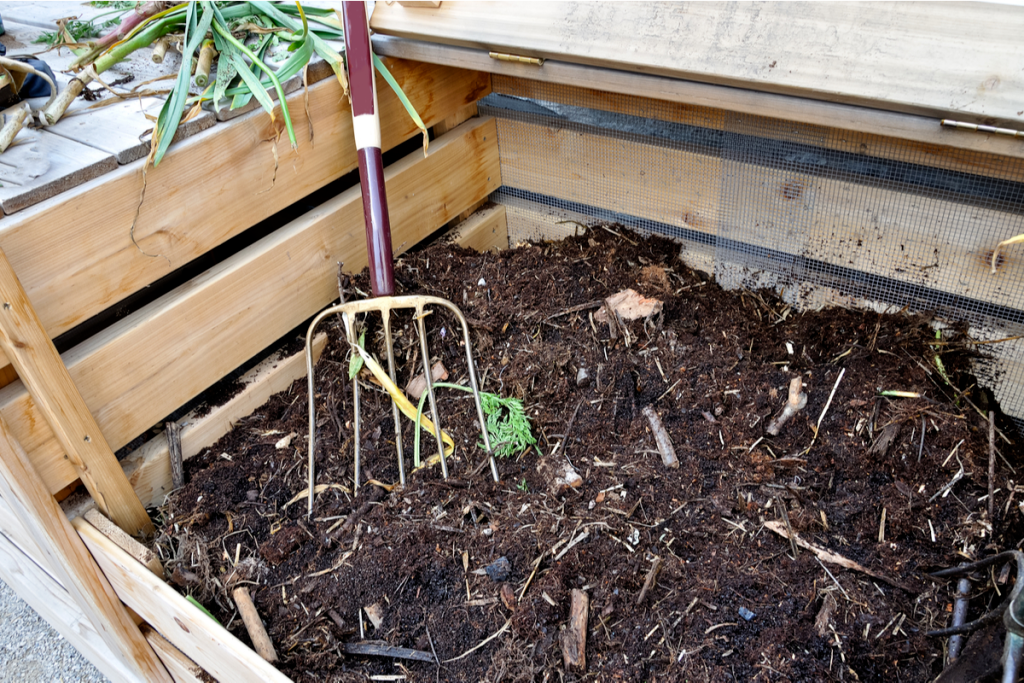 Image Source: happysprout.com
i) Can I use a pitchfork as an aerator?
I will admit that I have used different garden tools to do functions they were not meant for. For example, while a pitchfork can get the aeration job done, it is not the best tool for aerating a compost pile. So instead, there are aerator forks meant to do that job.
ii) Can I use any pitchfork for compost?
While pitchforks can be used interchangeably, it is not wise to use any pitchfork on compost. This is because different forks have different tine shapes that might make them harder to use for unintended purposes. For instance, you will need help to dig up root vegetables with a broad fork.
While most forks will work most of the time, compost forks will work best all the time.
iii) What shaft material do I need on the pitchfork?
The shaft makes the largest part of the pitchfork, and I pick my handles keenly when buying a pitchfork. You can get a steel shaft, which still works well with the fork. Other materials are needed, such as fiberglass, wood, or plastic.
I go for wooden shafts because they are easier to work with in the cold seasons. While I can get garden gloves for winter to protect me against frostbite, a wooden shaft allows me to pick up the fork and get going.
A metal or steel shaft will require much maintenance and protection from rust. My farm tools with metal shafts are painted over. The problem with painted shafts is that they become slippery when wet. However, I can solve this problem by getting garden gloves with a good grip.
To avoid all this, I use wooden shafts.
iv) Can I use a pitchfork to dig?
Pitchforks are made specifically for digging, with a strong carbon steel shaft and a hardwood handle. Such forks have rounded or pointed tines for ease of digging. There are forks for almost any work you want in the garden, including carrying heavy loads, spreading mulch, moving mulch, spreading compost, harvesting root vegetables, and more.
Final Thoughts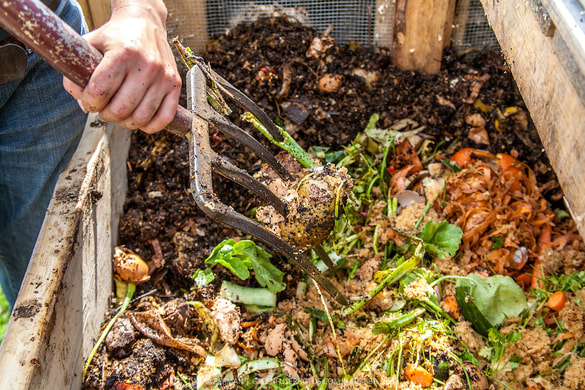 Image Source: warrenswcd.com
Getting the right fork made my work easier and more efficient and will also work for you. There are many options, but you will enjoy working on your garden once you make the right pick. I have had good experiences with the options above, and you will too.
Featured Image Source: hobbyfarms.com