Many trends have come and gone, but that of indoor plants looks like it is here to stay. Besides the popularity of houseplants thanks to social media's greenery-inspired interior designs, houseplants also offer mental or psychological benefits and improve indoor air quality. So, if you have started growing your indoor plants, the last thing you want is spider mites spoiling the fun. Before catastrophe hits, we will tell you where to find the best spider mite spray for indoor plants.
Why Use A Spider Mite Spray?
Image Credits: royalcitynursery.com
Did you grow up fearing spiders? You know, the giant crawling insects that even caused nightmares? Well, spider mites are the total opposites of spiders. They are small and can go undetected for months or until you notice your plant's poor health. Spider mites belong to the arachnid family living in colonies. They thrive in many seasons, including winter, when they will be in the egg cycle.
During summer or hot seasons, these pests will live on the backside of plant leaves, where they are tough to detect. Spider mites thrive in hot, dry, and dusty conditions, so plants growing in these environments are most susceptible. Despite their small size, spider mites literally suck the life out of plants.
Image Credits: opticfoliar.ca
They bite into the leaves and stems, sucking out fluids from plant tissue. In the early days of infestation, you will start noticing sections of your plant leaves that look lighter as they begin to yellow. At this stage, you can eradicate the infestation with mild treatments. But, as the spider mite colony grows, the damage on leaves will spread faster, and you'll soon notice completely yellow leaves before they eventually brown and dry up.
As you can see, spider mites can cause irreversible damage- once they start eating into leaves, your only recourse is to catch and eradicate them early enough. If you detect them late, you might have lost enough plant leaves and fluids to kill the entire plant. An excellent place to start is with a spider mite spray bottle.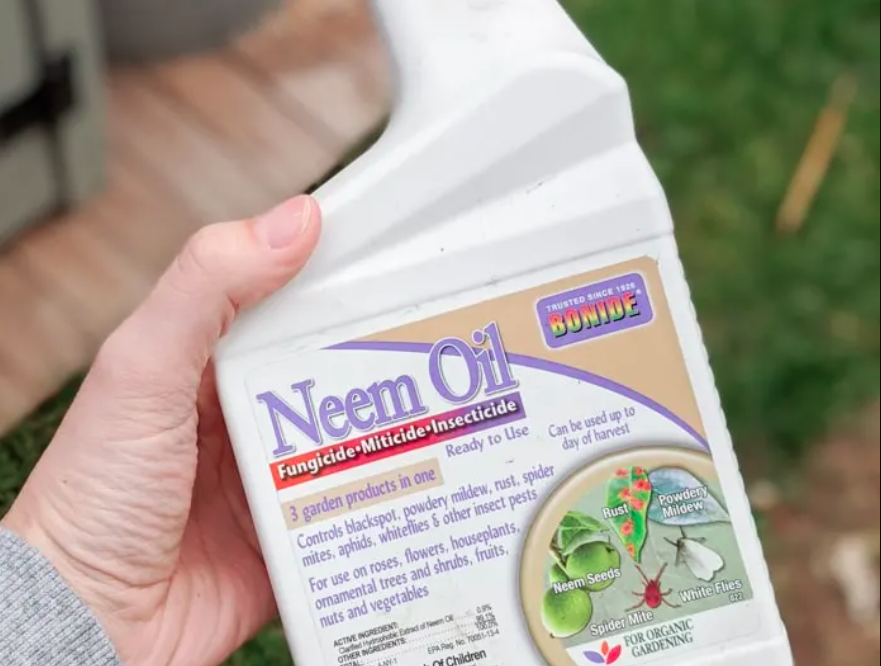 Image Credits: bybrittanygoldwin.com
The spray is the least harmful spider mite treatment. We recommend spider mite sprays made with natural ingredients extracted from plants and flowers, as they are safe to use on your houseplants. They come ready to use, and we always look for those with an OMRI certification, which indicates the product has passed the national organic test. Here are a few pesticides you can spray to keep your plants healthy.
| | | | |
| --- | --- | --- | --- |
| | | | |
| | | | |
| | | | |
| | | | |
| | | | |
1. Natria 706250A Neem Oil Spray for Pest Control
We are proud plant parents, so nothing is more important than using the best products to control spider mites while feeding our plants with nutrients. Since we know neem oil is a good plant foliar fertilizer, we were excited to find this product that we can also use to kill spider mites.
Image Credits: natria.bioadvanced.com
The Natria neem oil spray is made with organic ingredients to repel and kill spider mites on plant leaves, flowers, and even fruits. When looking for the best spider mite spray for indoor plants, we wanted to ensure the product we got was safe for house pets and children, a guarantee we got from this Natria spray. In addition, we also found it is safe to use on vegetables and other edible indoor houseplants up to the day of harvest.
We were satisfied with the ease of application, its ability to eradicate spider mite infestation, and its affordable price for a 24-Ounce bottle. It is also OMRI-certified, but we did not like its garlic smell, even though it is mild.
2. Garden Safe 80422 Houseplant and Garden Insect Killer
Garden Safe 80422 Houseplant and Garden Insect Killer 24-Ounce Spray, 2 Pack
Garden Safe Houseplant & Garden Insect Killer Ready-to-Use 24oz Kills all stages of insects including eggs
Kills bugs on contact
For use on edibles up to day of harvest
Kills aphids, beetles, caterpillars, ants, mealybugs, mites, leafhoppers, scale, thrips, fungus gnats, whitefly,...
Also kills sawfly larvae, psyllids, spittlebugs, phylloxera; use up to day of harvest.Made with a botanical...
Last update on 2023-01-10 / Affiliate links / Images from Amazon Product Advertising API
Having a spider mite problem is heartbreak for any plant parent, and we found this the hard way. They spread so fast on our succulents and ferns; had we caught the infestation any later, our plants would have been beyond saving. Luckily, we got the Garden Safe insect killer right on time to eradicate most of the houseplants' spider mites.
Image Credits: gardensafe.com
This spray bottle comes with 24 ounces of liquid insecticide. It is extracted from the chrysanthemum flower, but we could not verify other ingredients were made from natural sources. We found it eradicated the spider mite infestations after several applications, although we had to spray a lot of it to literally drown the pests.
The spray bottle is easy to use, and the insecticide is safe on edibles up to the day of harvest. While we loved that it can eliminate spider mites, we found the bottle a bit expensive, and we also had to use a lot of insecticides to kill the pests.
3. Mighty Mint 32oz Plant Protection Peppermint Spray for Spider Mites
Last update on 2023-01-10 / Affiliate links / Images from Amazon Product Advertising API
As mentioned above, we are always on the lookout for organic plant products, which is what we found in this Mighty Mint liquid insecticide for spider mite control. We ordered this 32-oz bottle and found the following to report.
Image Credits: mightymintproducts.com
Firstly, it is a safe insecticide made from natural ingredients. It is formulated with peppermint oil, rosemary oil, and geraniol. According to the manufacturer, all components are extracted from US-grown plants. In application, this formula is able to kill and prevent spider mites, and we found it does so after the first application. The formula makes it hard for spider mites to extract their food from plants, and those that do not die after application are repelled from the plant leaves.
We found the product affordable, effective, and easy to use on all our houseplants. However, we recommend using it with caution on some delicate plants like roses since we found the formula a bit stronger than most on this list. Finally, the formula smelled great after application, and we loved that it is safe for plants, humans, and pets.
4. Grower's Ally Spider Mite Control Spray
Sale
AMD Ryzen 9 3900X 12-core, 24-thread unlocked desktop processor with Wraith Prism LED Cooler
The world's most advanced processor in the desktop PC gaming segment
Can deliver Ultra-fast 100 plus FPS performance in the world's most popular games
12 Cores and 24 processing threads, bundled with the AMD Wraith Prism cooler with color controlled LED support
4.6 GHz max Boost, unlocked for overclocking, 70 MB of game Cache, DDR 3200 support. OS Support-Windows 10 - 64-Bit...
Last update on 2023-01-10 / Affiliate links / Images from Amazon Product Advertising API
When looking for a spray to kill spider mites and their eggs, you can be tempted to get the most potent formula out there. However, we found that those with OMRI certifications often guarantee the best results because the recipes will be safe to use indoors while killing these spider mites. If you want such a spray, this one from Grower's Ally will not disappoint.
Image Credits: growersally.com
The organic pesticide comes in different quantities, from 8 to 128 oz. We opted for the 24 oz bottle with a spray feature, which makes the product easy to use. The pesticide is formulated with a blend of clove, rosemary, and peppermint oil, and it is OMRI listed, hence safe for plants, humans, and pets after indoor application.
We applied this formula on spider mite-infested violets and found it kills the pests, including adult spider mites and spider mite eggs. While it was easy on lighter plants, we had to spray it several times on the violets and other thicker plants for the formula to kick in and eradicate the mites.
The spray is easy to apply and works well with new to aged plants. While controlling spider mites was our primary goal, we also loved how well the house smelled after each application.
5. EcoVenger Garden Insect Control Spray
Sale
EcoVenger (Formerly EcoRaider) Garden Insect Control 16OZ, Plant Extract Based, Indoor & Outdoor,...
【FAST ACTION & THOROUGHLY KILL】: Product is ready to spray for most grown plants to instantly remove...
【ELIMINATES and PREVENTS】: Quickly kills and prevents aphids, red spiders, armyworms, gnats and whiteflies. For...
【FOLIAGE & SOIL TREATMENT】: Spray leaves and stems to kill visible insects and spray soil to kill hidden ones...
【Natural & Non-Toxic but Effective Formula】: This product does not contain pesticide or toxins. Its active...
【Be Sure to Follow the Instructions】: Spray as is for most grown plants. For delicate plants, a simple and...
Last update on 2023-01-10 / Affiliate links / Images from Amazon Product Advertising API
Do you have grown plants with clear signs of spider mites infestation or spider mite webs? Then you will need a spray specifically designed for mature plants, and we recommend this option from EcoVenger. In most cases, when a spray is very effective with young plants, it is, unfortunately, less effective with adult plants. This choice guarantees getting the best treatment for your plants, and we are happy to report you will get the best results.
Image Credits: ecovenger.com
The formula is made from natural sources like botanical insecticidal compounds and all ingredients are GRAS (Generally Recognized as Safe)-rated. As a result, we can confirm the insecticide is safe for humans, plants, and pets, including fish. We found it perfect for eradicating spider mites from the foliage, and it was also effective against other pests in the soil.
While the spray quickly killed all the spider mites on our plants, we had a few hiccups with delicate plants. In our case, we learned we had to dilute the formula to apply to our crotons that had attracted spider mites from other houseplants. That said, the treatment is affordable and comes with an easy-to-spray bottle.
Factors to Consider When Buying The Best Spider Mite Spray for Indoor Plants
Image Credits: homeguides.sfgate.com
Are you ready to buy the best spray to kill and prevent spider mite populations? Here are some factors you can consider as you buy.
a) Ingredients
Before buying the liquid insecticide, understand the ingredients used to make the formula. We recommend choosing a product made with natural or organic ingredients because these will be safe to use indoors, whether you have children or pets around.
Some of the best sprays for spider mite control are made from plant sources such as pyrethrum, neem oil, cinnamite, and rosemary oil. While these are generally safe for humans and pets, they can harm plants if used in heavy concentrations. However, you can always dilute the formulas to keep your plants healthy after killing the spider mites.
Finally, we recommend using spray miticides from all the different plant sources above. This is because the spider mites populate fast, and an infestation can be hard to eradicate, especially if new eggs keep hatching. Using different sprays with different ingredients makes it impossible for spider mites to build immunity against the treatments.
b) Smell
After trying out several products, we found the importance of understanding how the formula smells after spraying it. Since you will use the spray indoors, the smell will linger on for a while, affecting how comfortable you or your pets will be in the room.
We found that the best-smelling sprays are made with natural ingredients like neem, peppermint, and rosemary oils. However, insecticides made with synthetic or chemical ingredients will often leave a nasty smell that makes a terrible living environment.
c) Quantity
When buying your spray insecticide, it will also be best to consider how much liquid you need. To understand your requirements, observe how many houseplants you have and the level of the spider mite infestation you have. With this, you will buy enough pesticide to treat all your plants.
d) Types of Houseplants
As experienced plant parents, we have had more cases than we'd like of spray pesticides killing our plants. So, we recommend understanding how healthy your houseplants will remain after you spray them to eradicate the mites. Some spider mite sprays are designed for delicate plants, while others are ideal for hardy plants. If you are not sure your insecticide is suitable for high-maintenance plants, we recommend diluting the liquid with clean water before spraying your plants.
How to Prevent Spider Mite Infestation After Spraying
Image credits: livelyroot.com
When you eradicate the spider mite populations on your plants, here is what to do to prevent a future infestation.
Clean the leaves to remove all spider mite webs.

Since spider mites feed on plants growing in dry environments, keep your plants watered and mist them regularly to discourage the houseplant pests.

Debug house plants before bringing them into the house.

Isolate and prune infested houseplants to curb population when you identify spider mites

In case of an infestation you cannot eradicate with spray insecticides, use predatory mites or beneficial insects that prey on spider mites.