Turning compost is essential to creating aerobic composting conditions and maintaining a healthy compost pile. However, straining your back while turning your compost material with a pitchfork or shovel to allow airflow is no fun! The best tool for turning compost will make your job easier and prepare quality compost.
There are various tools you can use to turn your compost, but none is as efficient as the tool specifically designed to carry out this task. Therefore, I have highlighted the best tools for turning compost with minimal energy input and zero body strains. Delve in!
Best Compost Aerator Tools
| | | | |
| --- | --- | --- | --- |
| | | | |
| | | | |
| | | | |
| | | | |
| | | | |
1. Yard Butler Twist Tiller
Yard Butler Twist Tiller garden cultivator & hand tiller heavy duty garden claw hand tool - ITNT-4
LIFETIME GUARANTEE: Stop buying plastic or cheap metal products that don't hold up over the years. Yard Butler...
LONG HANDLED GARDEN CLAW CULTIVATOR's step plate and wide 12 inch T handle uses the force of your body to easily...
HANDHELD TWIST TILLER loosens, turns, tills, and aerates soil promoting the free flow of water, air, and fertilizer...
HAND CULTIVATOR & CLAW WEEDER is ideal for mixing fertilizer or peat moss amendments and preparing raised bed for...
GARDEN HAND TILLER is heavy duty with powder coated durable steel construction to last multiple planting seasons....
Last update on 2023-01-10 / Affiliate links / Images from Amazon Product Advertising API
The extra wide high-leverage handle and weight-centering middle step plate of this compost aerator tool make it an effective aerator tool that works best for both lawn and compost. For example, I could use it to mix compost, add soil amendments and dig holes for planting.
Image Source: homedepot.com
The Yard Butler Tiller weighs 4.5 pounds and is 37 inches tall with a step plate that centers your body over it for proper pushing and easy rotation. It has a durable powder-coated steel shaft and a wide 12-inch T handle that helps to reduce the effort of rotation.
To use this tool, drive the six claw spikes deep into the compost and twist them by using the force of your body to rotate the sharp-angled claw tines. Then, pull it to mix the compost heap. Repeat it till the contents in your compost pile are mixed thoroughly.
2. Garden Weasel Garden Claw Pro
Sale
Garden Weasel 91334 Claw Pro - Cultivate, Loosen, Aerate, Weed, No Bending - Great for Heavy Soil,...
WEASEL CLAW PRO: Cultivate, Loosen, Aerate, and Weed (CLAW) with the Weasel Claw Pro.
BREAKS UP HARD SOIL: The Weasel Claw pro is easy to use even on clay and other heavy soils.
DETACHABLE TINES WITH THREE SETTINGS: Tines are flexible and can be adjusted to work in tight settings for weeding,...
COMFORTABLE AND DURABLE: Long handle with comfort grip means no bending or lifting. Carbon Steel design means...
LIFETIME WARRANTY: Garden Weasel tools are so tough that they are backed with a lifetime limited warranty for years...
Last update on 2023-09-17 / Affiliate links / Images from Amazon Product Advertising API
This Weasel Garden Claw is a versatile garden tool specially designed to cultivate, loosen, aerate and weed your land. It also comes fully assembled with a design that is easy to hang and comfortable grip handles.
Image Source: bestviewsreviews.com
This medium-duty tool is great for many soils and compost bins, small or large. The tines are adjustable, so I could use the small settings for aerating compost bins and the medium and large settings for cultivating and tilling, respectively. Additionally, this compost turner is great for any compost bin with its spiral turn action and no-bending feature.
The Weasel Garden Claw Pro is made of durable carbon steel, which is weather and rust-resistant. However, you mustn't be a weightlifter to work with this tool, thanks to its weight of 2.5 pounds with dimensions of 5.5X12X38 inches.
To use it, stand fully upright over the area, place the head in your compost bin, then turn the comfort grip handles to aerate your compost. It has four turning tips that produce twisting action to turn the contents of your compost for greater aeration and quick decomposition of food waste.
3. Fiskars 79906935J 40 Inch Long Handle Steel Tiller
Sale
Fiskars 79906935J , 40 Inch Long Handle Steel Tiller
Ideal for breaking up tough soil when tilling
Extra-long handle eliminates sore knees from kneeling or back strain from bending
Six arrow-tipped tines penetrate tough soil easily
All-steel construction provides durability that outlasts common garden tools
Length: 40"
Last update on 2023-01-10 / Affiliate links / Images from Amazon Product Advertising API
The Fiskars Long-Handle Steel Tiller gets ranked among the best compost aerators for sheer durability.
The hardened-steel tines welds to the long steel shaft, providing a stable turning and aerating tool that can handle average to dense compost piles. While trying it in a dense compost pile, the steel shaft didn't bend as it may with a wood or fiberglass shaft.
Image Source: walmart.com
I like the platform where you place your foot to apply more pressure to push deeper into the compost pile before rotating the handle. Also, this tool can break garden topsoil before planting season.
This Fiskars Tiller is among the best compost-turning tools since it effectively turns and aerates average-size compost piles with less effort compared to other models.
The tines design grabs and fluffs plenty of material at once, so you can quickly finish tending to your pile of garden waste. In addition, the steel construction is long-lasting, making this a very cost-effective tool.
4. Squeeze Master Compost Aerator
SQUEEZE master Compost Aerator-Compost Turner and Mixing Tool-Crank for composting-Compost Aeration...
High-grade stainless steel material:Made of high-grade stainless steel material, no harmful substances and no...
Ergonomically designed handle:High-quality polyamide material, well-designed for easy grip.
Worm friendly:The smooth crank won't hurt the worms in your fertilizer, just plug in and spin for easy aeration.
Simple installation & space saving: With only 2 parts in total, installation is quick and easy,which for convenient...
Quality warranty:We will always stand behind our products to provide after-sales service to customers. If you have...
Last update on 2023-01-10 / Affiliate links / Images from Amazon Product Advertising API
With only two parts in total, installing this compost aerator was quick and easy, and I didn't need to purchase additional parts because everything was included in the package. It is also easy to use; simply plug it in and spin it for aeration.
Image Source: gardentoolcompany.com
Its simple, high-grade stainless steel design means no harmful substances or residues like rust. The surface is also smooth and free of burrs, so you don't have to worry about safety issues.
The Squeeze Master Compost Aerator's handle is ergonomically designed with a high-quality polyamide material, making it easy to grip and effective. I use worms for vermicomposting food waste, and while working with this tool, I realized it didn't hurt the worms thanks to its smooth crank.
5. Subpod Compost Aerator
Subpod Compost Aerator. Compost Turner and Mixing Tool That Won't Hurt Your Worms. Crank Compost...
WORM FRIENDLY: Unlike drill-bit attached augers which can kill your worms in seconds, the Subpod compost mixing...
FOOD-GRADE STAINLESS STEEL: Designed for safety and it won't rust! Super easy to clean, very easy and simple to use...
COMFORTABLE POLYPROPYLENE HANDLE: Ergonomically designed for comfort and ease of use, the Subpod compost aerator...
EASILY TO DISASSEMBLE FOR STORAGE AND TRANSPORT: A compost tool can be annoying and awkward to store. The Subpod...
SPARE PARTS INCLUDED: We include spare parts so in the unlikely event something goes wrong, you're covered.
Last update on 2023-01-10 / Affiliate links / Images from Amazon Product Advertising API
Subpod Store provides some of the best gardening tools at an affordable price range. If you are looking for a good quality and effective compost aerator, Subpod Compost Aerator is one of the best options.
Image Source: subpod.com
Unlike drill-bit attached augers, which killed the worms a few minutes into use, this tool gently and efficiently aerated my compost pile leaving the worms unhurt.
Subpod Compost Aerator is made from food-grade stainless steel with a comfortable plastic handle that provides a proper grip for easy compost mixing and turning. In addition, these materials are resistant to humidity and rust, so they don't react to the compost materials.
With a weight of 2.9 pounds, it is easy to lift and twist in the compost. All you should do is insert the tool into the compost heap and twist it. The round spiral end thoroughly turns and aerates the compost creating enough space to decompose properly.
Compost turning tools can be annoying to store, but the Subpod Compost Aerator disassembles for convenient storage and transportation. It also has spare parts included, so you won't have to spend extra in case of the breakage of any parts.
Best Compost Turning Tool Buying Guide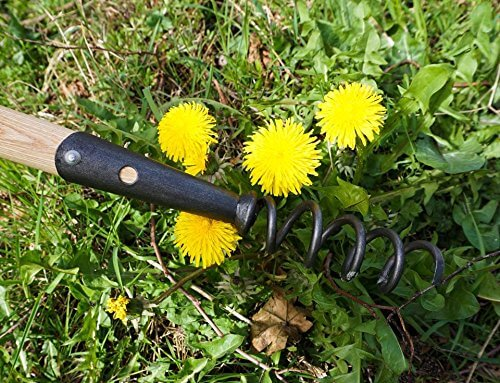 Image Source: urbanturnip.org
1. Design
There are two major compost aerator designs: plunger and corkscrews. Both are easily inserted deep into the compost heap and twisted, then lifted to unsettle it. The pulling action will move the contents and circulates air in the compost. Here are some of the features of each design
i) Plunger Aerators
1. A plunger has a pointed pole and two or more folding tines or retractable blades in which the tines get close when the aerator is pushed into the pile and open up when it is pulled. This process creates air pockets making plungers suitable for compost with many dry heaps. 
2. It has a T handle making it easy to push and pull the compost components without straining your muscles. Therefore, it is best for heavy compost piles.
ii) Corkscrew Aerators
1. To use this aerator tool design, twist the tool into the compost, then pull it out to create air pockets and spread moisture evenly into the compost components. 
2. Corkscrew compost aerators are effective for light compost because twisting and pulling them may strain your muscles.
2. Body Material
The materials used in building the tool determine its longevity. Most compost-turning tools are made of stainless steel or aluminum and have a protective coating to handle constant use without bending or rusting. This makes the material firm whether you are plunging, twisting, or pulling.
3. Length
You should check whether the design and length reach your general comfort for aerating. This will depend on your compost bin or bed. Note that undesired lengths might lead to uneven decomposition.
4. Padded Handles 
Checking ergonomic factors is quite common before buying any product.  Some gardeners suffer from ailments and need tools designed to keep their hands and muscles comfortable. Choose tools with a proper grip on handles that you can use without applying too much strain on your body parts throughout the process.
5. Price
Before purchasing any product, you should decide how much to spend on that product. It may depend on the nature of the work and features as per your requirement. It is also advisable to go through customer reviews to know the pros and cons of that tool.
Frequently Asked Questions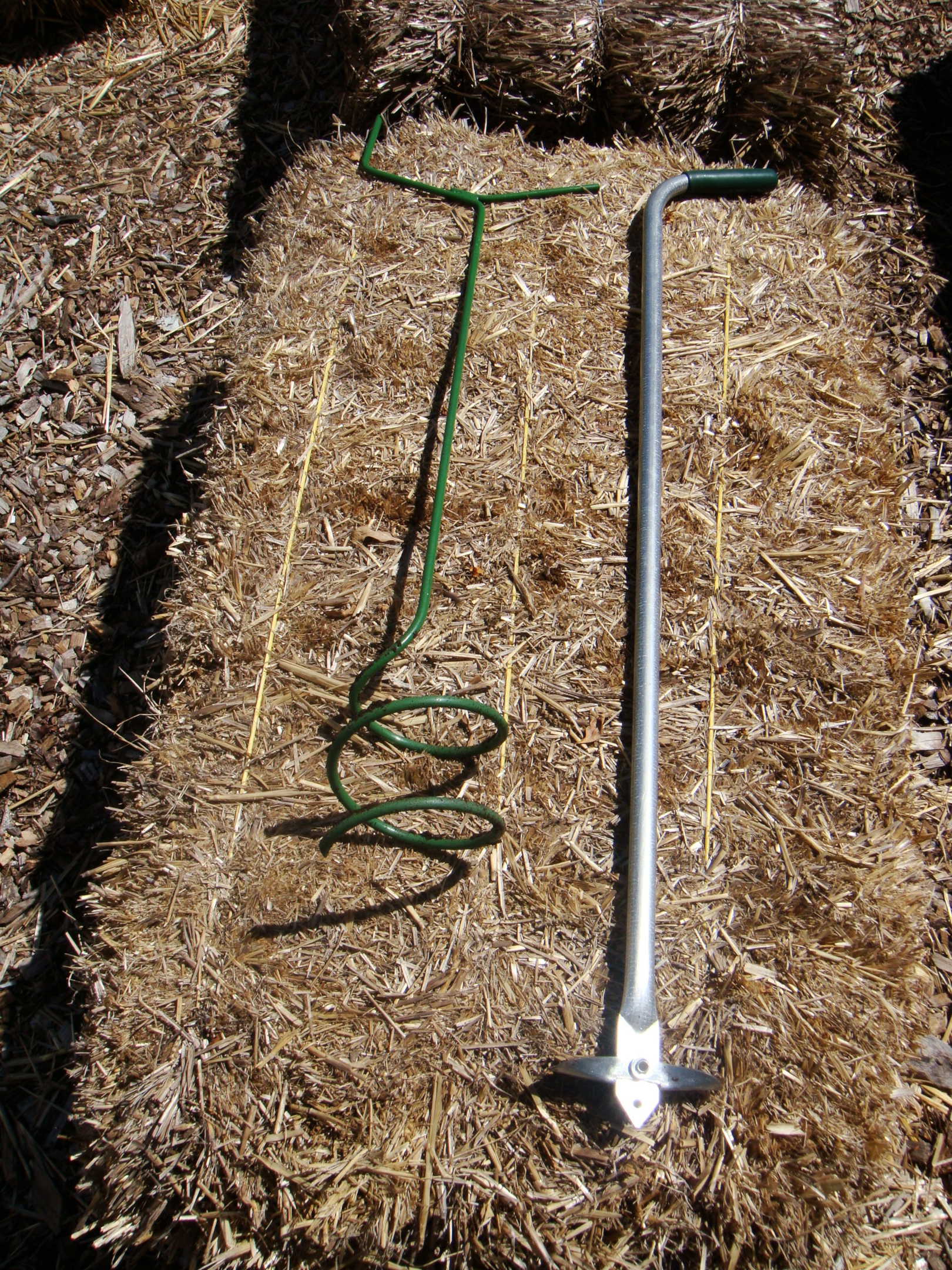 Image Source: solanacompost.wordpress.com
1. How often should I turn the compost pile?
For any compost pile, it's a good idea to turn it at least once a week. But for large piles, you may want to break up the task into smaller portions. Turn a section daily, keeping in mind to return to the first section within a week.
2. Do compost aeration tools work?
A compost aerator creates pockets of air inside the compost components, which provides vital oxygen to the bacteria living inside. These bacteria are key for breaking down the organic materials within the mix, so the more active and healthier they are, the faster your compost will be complete.
While pitchforks and shovels can turn the mix to create this same effect, a compost aerator can do the job much quicker with less strain on the body. Compost aerators also work well when they are put to use regularly.
3. Why should I turn the compost?
Turning your compost regularly provides a regular supply of oxygen to the pile, thereby speeding up the process of getting compost. Other reasons include reheating the pile, creating a passageway for moisture, and eliminating odors.
 4. Can I use a soil fork to turn the compost?
Yes. A soil fork is useful for turning almost-finished compost or digging heavy finished compost from the pile and incorporating it into garden beds.
5. Who can use compost-turning tools, and how?
If you have shoveled or turned compost, you should know it's hard and back-breaking work because it requires much physical strength. Kids, older people, and those out of shape should avoid using compost-turning tools; instead, they should use compost tumbling bins. To use any of these tools, Push the aeration tool deep into the compost heap, then twist and pull out to turn the compost mix. Turn your compost properly once a week for better results.
Bottom Line
The compost turning tool is an important gardening tool that helps to spread the air, heat, and moisture throughout the pile by turning the compost to improve the decomposition process. So, choose the best tool with features like build quality, comfortable grip handles, ease to use, height, and durability to use in the long run.
This detailed buying guide and the products mentioned will help you invest in the best compost-turning tool that suits your needs and requirements. Also, remember to place your compost bins in a suitable place for a smooth decomposition process.
 Featured Image Source: selections.com